I am not fond of soups but I prepare whenever the husband demands for it instead of tea or coffee during winter season. I learnt few simple soups for him where cabbage and tomato soups are the frequent visitors of my kitchen. I have tried this spring onion soup once and everybody at home liked it. but with no reason, I forgot about it. Last week, when we got spring onions from the market, the husband reminded me of this soup and prepared it again on a rainy day. We enjoyed it and hope you will also like it. You can see the slight difference in texture here that is because I used milk instead of heavy cream. Use heavy cream for smooth texture.
Basic Information:
Preparation and Cooking Time: 20 minutes + 10 minutes for cooling
Serves: 2

Ingredients:
Spring Onions – a bunch
Onion – 1/4 cup, finely chopped (optional)
Garlic – 2 big cloves, finely chopped
Olive Oil – 2 teaspoons
Heavy cream/Milk – 1/2 cup
Water/Vegetable stock – 1 cup
Salt – to taste
Crushed black pepper – 1 teaspoon
Method:
1) Wash and chop spring onions top and bottom part separately.
2) In a sauce pan, heat olive oil. Add chopped garlic and fry for few minutes.
3) Add chopped onion and bottom part of the spring onion. Saute till the onion gets translucent.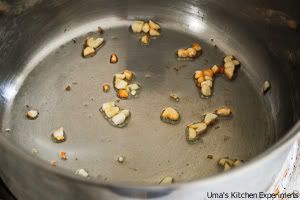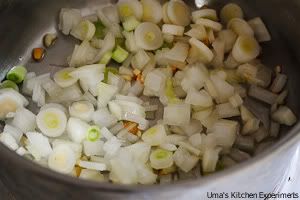 4) Add spring onion top part and saute well without changing the colour. Once it is done, allow it cool completely.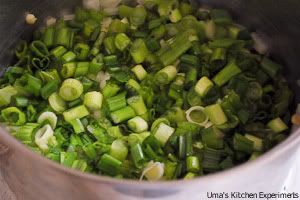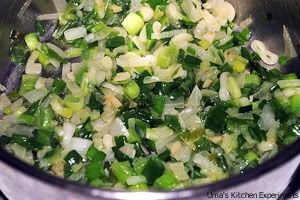 5) Blend the mixture to a smooth paste and transfer to sauce pan again.
6) Add vegetable stock or water and milk. Simmer it for 5-7 minutes. Add salt and pepper.
7) Pour in bowl and serve hot with croutons.
Note:
1) Make sure to fry the onions till the raw smell goes off.
2) Add cooked fresh or frozen peas while blending to get another variation.
Sending this recipe to Herbs and flowers – Spring Onions event hosted by Kaveri.