Coconut rice is the one which I prepare very often as it is very simple except the time taking for grating the coconut. When I see fresh, tasty coconuts immediately my mind will think about making some coconut burfi or this rice. During my school days, We used to get a bag of coconut from our fields and My mom used to make many dishes using it among which coconut rice and coconut burfi are my favorite.
I usually prepare this coconut rice (thengai sadam) in 3 different ways but I have blogged one of them here and have given the notes for other two methods. Now enjoy the recipe!
Recipe Video:
Basic Information:
Preparation Time: 15 minutes
Cooking Time: 15 minutes (30-40 minutes including to cook rice)
Serves: 3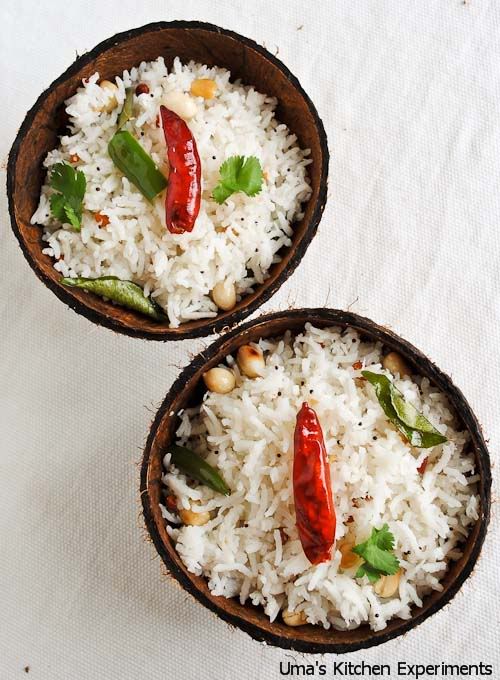 Ingredients:
Cooked Rice – 2 cups
Grated Coconut – 1 cup/half small shell
Oil – 2 teaspoons
Mustard seeds – 1/2 teaspoon
Urad dal – 1/2 teaspoon
Channa dal – 1 teaspoon
Roasted unsalted peanuts – 1 tablespoon
Dry red chilli – 2
Green chilli – 2, slit
Curry leaves – 1 sprig
Salt – to taste
Asafoetida – a pinch
Coriander leaves – for garnishing
Method:
1) Take a pan and heat oil in it. When it is hot and not smoking, add mustard seeds.
2) Add urad dal and channa dal.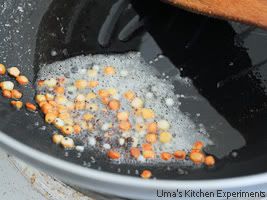 3) Add roasted peanuts and saute till it becomes golden brown.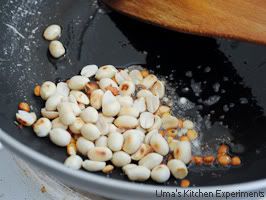 4) Add green chilli, dry red chilli and curry leaves. Saute for a minute. Add asafoetida and salt.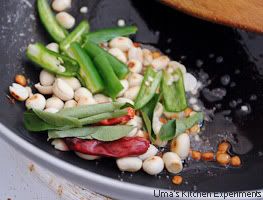 5) Add grated coconut and fry for few minutes. Make sure the coconut is moist while doing it.
6) Reduce the flame to low or turn off the stove. Add rice. Mix well till the rice gets warm.
7) Garnish with coriander leaves and serve hot.
Note:
1) Instead of peanuts, you can also add cashew nuts.
2) If you are using freshly cooked rice, then spread over the wide plate to cool and then add to the fried coconut.
3) For rich taste, cook 1.5 cup rice with 1 cup of coconut milk and 2 cups of water.
4) Mix grated coconut with cooked rice and add only the seasoning. This is another easy method.
5) Use coconut oil for seasoning to get nice flavor.