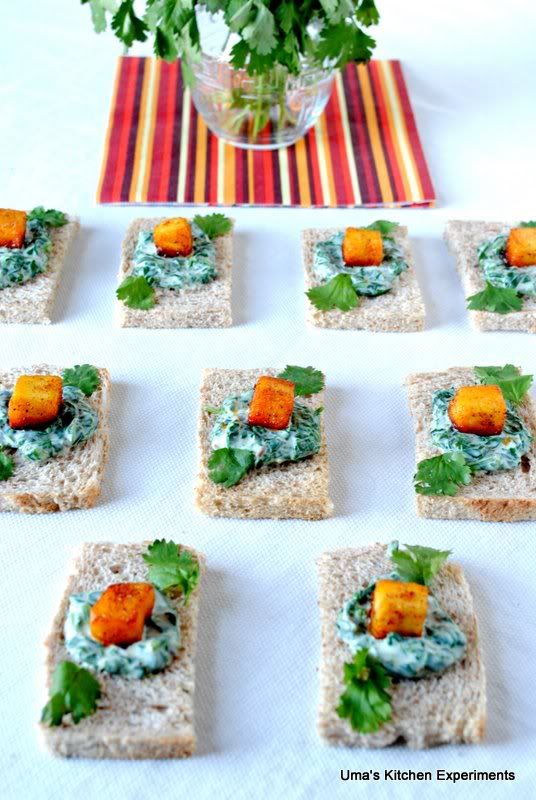 Usually, I use greens on the same day when I buy from shops. but last week, after preparing rice and palak paneer for the mid day meal, I had a cup of spinach leaves left at my hand. so prepared this spinach and paneer canapes from them. It was totally fun while preparing this. Hope you too enjoy when you prepare it.
From Wiki, A canape is a small, prepared and usually decorative food, held in the fingers and often eaten in one bite. A simple canape composition consists of a base, a spread, a main item and then garnish. I used base as baked bread, a spread as spinach yogurt mixture, a main dish as toasted paneer and coriander leaves for garnishing.
Did you know? Eating coriander everyday prevents digestion related problems and flatulence.
Basic Information:
Preparation Time: 15 minutes
Cooking Time: 15 minutes
Makes: 16 canapes
Ingredients:
Bread slices – 8 nos
Spinach – 1 cup
Paneer/ Indian cottage cheese – 16 nos
Thick Yogurt – 3-4 tablespoons
Cumin seeds – 1/2 teaspoon
Salt – to taste
Red chilli powder – 1/2 teaspoon
Oil – 2 teaspoon
Coriander – for garnishing
Method:
1) Remove the corners of the bread slices and cut them into two slices. (Or you can also use a cookie cutter to cut into a round shape).
2) Bake them in to oven for 10 minutes or until crisp with the temperature of 180C.
3) Meanwhile, chop the spinach. crush the cumin seeds in between your palm and add to spinach.
4) Microwave it for 2 minutes or you can choose stove top method to cook the spinach.
5) Once spinach is cooked allow it to cool.
6) When it cool down, add the yogurt and salt. Mix well.
7) Now, toast paneer slices in the pan with oil and red chilli powder.
8) When you finish toasting the paneer, check the crispness of the bread slices. If it is done, remove from oven and allow it to cool. They became more crisp when cooling down.
For Assembling:
1) Take a bread slice and spread a generous spoon of spinach as the base.
2) Then, place the toasted paneer on top of it.
3) Garnish with coriander leaves.
4) Repeat the step for other breads till the spinach and paneer are over.
5) Serve Immediately.

Note:
1) Increase or decrease yogurt quantity according to the spinach consistency you require.