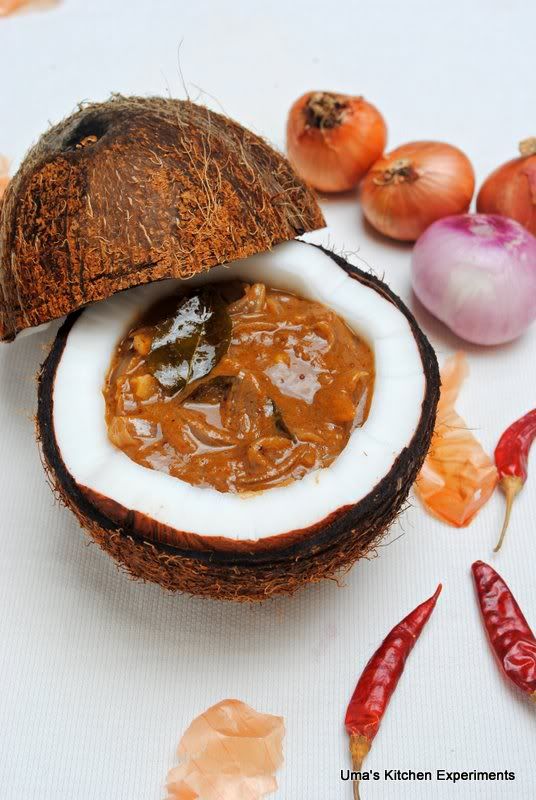 Only when I started blogging, I came to know that ulli theeyal is a kerala recipe. But the wonder here is, I prepare this gravy very often at my home without knowing the fact. This recipe is from my mom, who prepares this gravy every week with plain dal and carrot poriyal as the default combination. This combo is my family's favorite and sometimes we demand, home made fried pappadam from her. Try this combo when you bored of… you can feel the heaven. Now, read below to see how I prepare it!!!
Did you know? Shallots can lower the blood sugar levels in people with diabetes by preventing the degradation of insulin and increasing the metabolism of glucose.(From – The Hindu)
Ingredients:
For Gravy:
Shallots – 1 cup, sliced
Tamarind – 1 small gooseberry size
Oil – 4 teaspoons
Curry leaves – 1 string
Mustard seeds and Urid dal – 1/2 teaspoon
Salt – to taste
For Roasting & Grinding:
Fresh coconut – 1/2 cup, grated
Cumin seeds – 1/2 teaspoon
Pepper seeds – 1/4 teaspoon
Fenugreek seeds – 1/4 teaspoon
Coriander seeds/ coriander powder – 2 teaspoons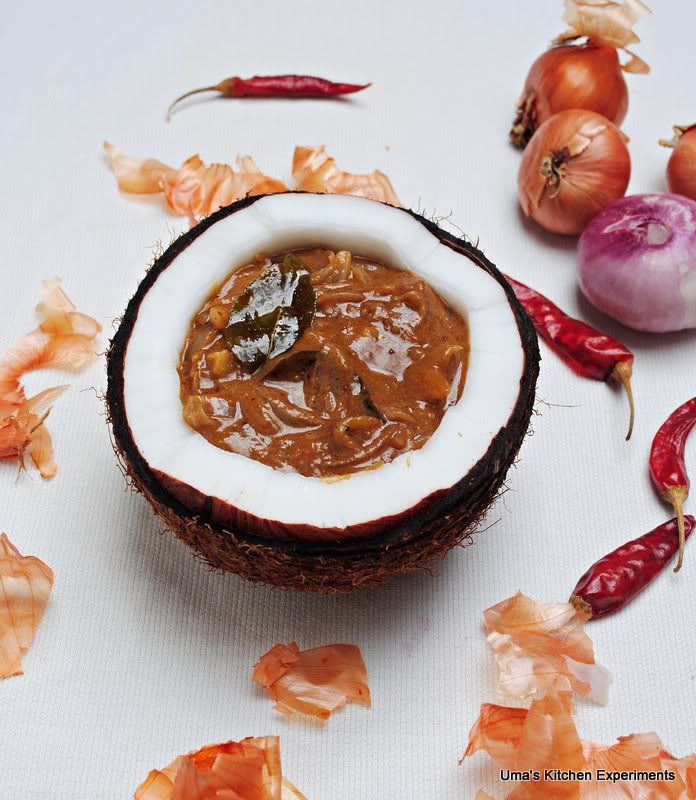 Method:
For Roasting & Grinding:
1) In a heavy bottom pan(I don't have the one, so I used the normal one. But works well with heavy bottom), add ingredients given for roasting and dry roast them till the coconut get brown. Make sure it is not getting burnt. If you are using the coriander powder, add in the mid of roasting. This way you can not burn them.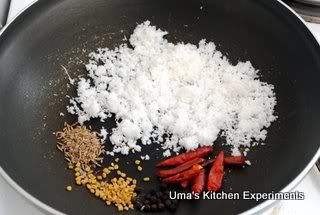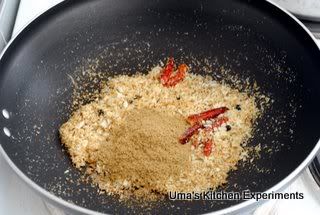 2) Allow the ingredients to cool and make a paste by adding little water.
3) Keep it aside.
For Gravy:
1) Soak tamarind in warm water for 10 minutes and extract juice from it. Keep it aside.
2) Wipe off the pan and heat 3 teaspoons of oil in it.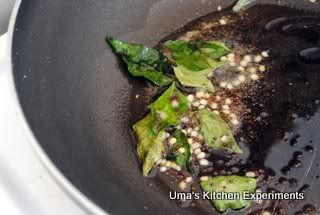 3) Add mustard seeds, urid dal and curry leaves. Allow them to splutter.
4) Add sliced shallots and fry them till they are soft and transparent.
5) Add extracted tamarind juice and ground paste.
6) Add salt and if required add water.
7) Boil it till they gravy becomes half thick.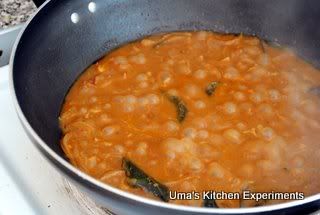 8) Pour a teaspoon of oil on the surface of the gravy.
9) After 2 minutes, remove from heat.
10) Serve hot with white rice.
Sending this to The Kerala Kitchen hosted by Khushi of A Girl's Diary.