With no sufficient vegetables at hand, a Sunday meal can still be a special one if you have soya chunks at hand. I prepared this soya chunks biryani with a slight variation from my usual vegetable biryani. Those who doesn't like soya chunks can replace it with vegetables.
Did you know? Soya chunks (alternatively called as meal maker in India) is a good source of protein especially considered as a best replacement for meat based proteins.
Basic Information:
Preparation Time: 25 minutes
Cooking Time: 30-45 minutes
Serves – 3
Ingredients:
Basmathi Rice – 1.5 cups
Soya chunks – 1 cup
Mixed vegetables – 1 cups (I used carrot, beans and baby corn)
Onion – 1/2 cup, sliced lenght wise
Tomato – 1 no, sliced
Ginger and garlic paste – 1 teaspoon
Mint and Coriander leaves – a handful
Coconut milk – 1 cup (I used cream coconut)
Water – 1 and 3/4 cups
Coriander powder – 1 tablespoon
Red chilli powder – 1 teaspoon / to taste
Salt – to taste
Turmeric powder – 1/4 teaspoon
Bay leaves – 1 no , crushed
Green cardamom – 2 nos, crushed
Cinnamon stick – 2 inch length
Fennel seeds – 1/2 teaspoon
Oil – 1 tablespoon

Method:
1) Clean and soak soya chunks in warm water for 15 minutes or follow the package instructions for cleaning and soaking.
2) In a pan, heat oil. When it is hot, add fennel seeds, bay leaves, cinnamon stick and green cardamon.
3) When they crackle, add onions and fry till they become soft.
4) Add ginger garlic paste and saute for a minute.
5) Add tomatoes and continue sauteing till they mashes well.
6) Add mixed vegetables and give a quick stir.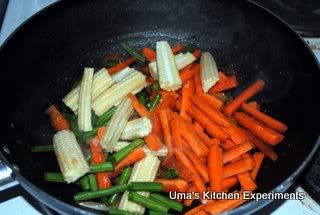 7) Lower the flame and sprinkle handful of water. Cover and cook for 10 minutes. Make sure the bottom of the pan is not getting burn.
8) When the vegetables are half cooked, add soya chunks and transfer the entire content to pressure cooker.
9) Add red chilli powder, coriander powder, turmeric powder, salt, mint and coriander leaves. Mix well.
10) Add 1 cup coconut milk and 1 and 3/4 cups of water.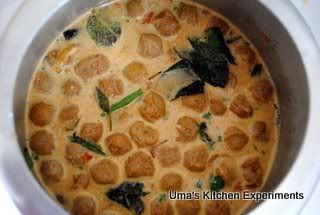 11) When it starts to boiling, add rice and gently mix it using spatula and cover the pressure cooker using the lid.
12) Wait for 3 whistle or according to your pressure cooker type and rice type.
13) Open when the steam completely releases from pressure cooker.
14) Allow it to cool for few minutes and very gently mix the rice.
15) Serve hot with raita.
Note:
1) The entire process can also be done only in pressure cooker. As I am not convenient with it, First I cooked vegetables in pan, then transferred it to pressure cooker.
2) You can add any vegetables of your choice.
Sending this recipe to Reva's Cooking with seeds – Rice event.