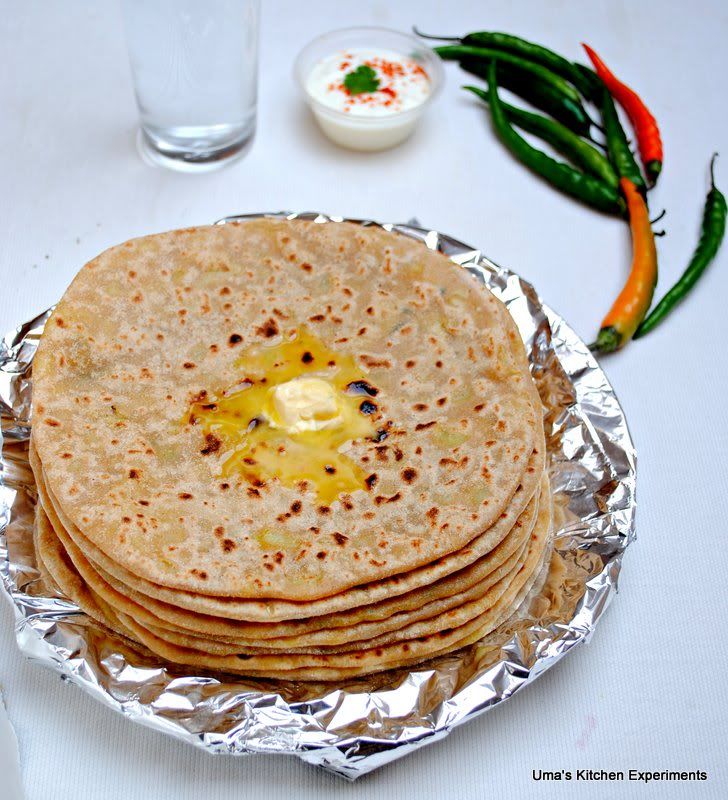 After a very long gap, I am posting a paratha recipe under roti section. First and my favorite aloo paratha is fresh from my kitchen(I made it for dinner :-)) and with no further blah blah stories I am off to the recipe. Here you go….
Did you know? Peeling skin of the potato will reduce the 60 percent of its potassium content as it lies so close to the skin. So to get the full benefits of the soothing potato, cook and eat with skin.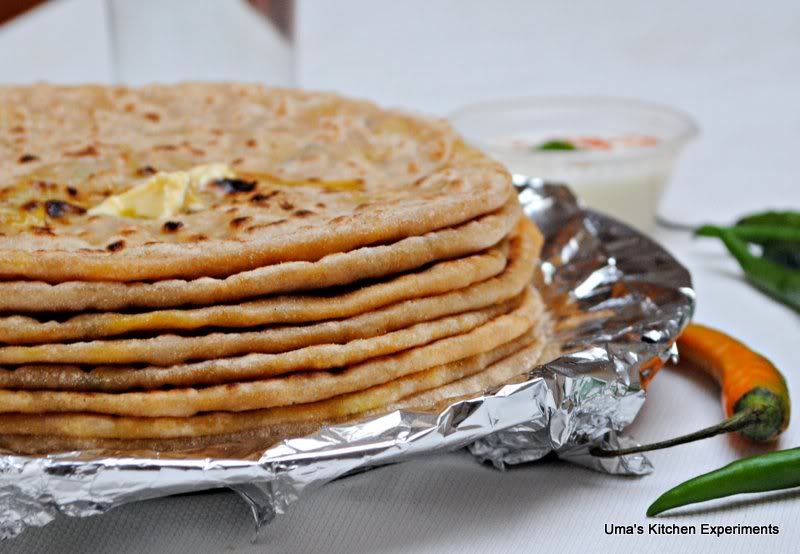 Basic Information:
Preparation Time: 30 minutes
Cooking Time: 30-45 minutes
Makes: 8-10 parathas
Ingredients:
For dough:
Wheat flour – 2 cups
Wheat flour for dusting – 2 tabelspoon
Salt – to taste
Oil – 1 teaspoon
Water – 3/4 to 1 cup
Butter – 2 tablespoons or more , for pan frying
For stuffing:
Potatoes – 4 large nos
Cumin seeds – 1/2 teaspoon
Turmeric powder – 1/4 teaspoon
Red chilli Powder – 1 teaspoon
Coriander leaves – 5 strings, finely chopped
Oil – 2 teaspoons
Salt – to taste
Method:
For dough:
1) In a mixing bowl, add wheat flour, salt. Make a dough by adding water little at a time.
2) When the flour is not sticking to your hand, add oil.
3) Knead it for 5 to 10 minutes.
4) The final dough should be very firm and soft.
5) Cover using wet towel and keep aside.
For stuffing:
1) Preassure cook the potatoes and once cooked, mash them well using your hand/masher(with or without skin).
2) Heat oil in a pan and add cumin seeds. Allow it to splutter.
3) Add mashed potaoes, red chilli powder, turmeric powder and salt.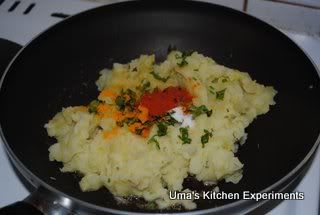 4) Add finely chopped coriander leaves and stir well.
5) Make sure the stuffing is dry to make parathas.
For making paratha:
1) Divide the dough into equal sized balls.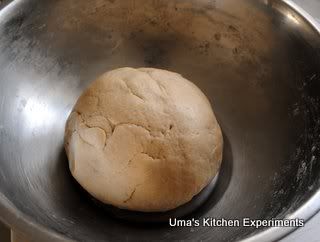 2) According to the count of the dough ball, divide the stuffing into balls.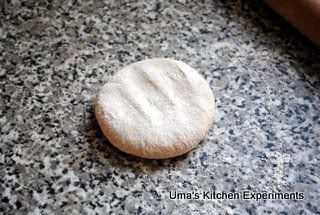 3) Take one dough ball and dust it using wheat flour. Roll it to a small round size and in center keep one stuffing ball.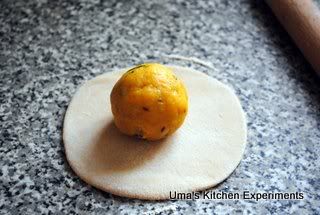 4) Using the corners of the dough cover the stuffing ball.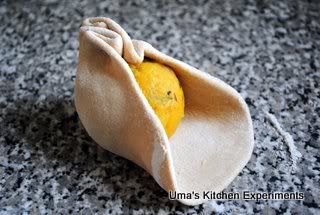 5) Gently press the stuffed dough ball using your palm/fingure as in picture.
6) Using the rolling pin, roll it to round shape as in pic.
7) Repeat the steps for other dough and stuffing balls to make parathas.
8) Heat a skillet/tawa and coat the surface with butter.
9) Put a paratha and cook it. when the bottom side is cooked, turn it to cook other side.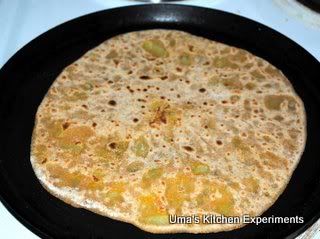 10) In between, if required, add butter.
11) Repeat the procedure for remaining parathas.
12) Serve hot with curd/yougurt and pickle.
Note:
1) For the stuffing you can add green chillies instead of red chilli powder and if doing, add 1/2 teaspoon of lime juice or amchur powder to get proper taste.
2) You can also add garam masala if you like.