If you are person who likes citrus flavor, then you might also like this lemon curd. It is a rich, creamy, velvety and shining thick sauce made with lemons, eggs and sugar.
A week before, I got a weight watchers cook smart baking book from a local library and inspired by lemon curd sponges recipe from it. Instead of going for a store bought lemon curd, I searched on the web and got a simple recipe from joy of baking.
It took only 15 minutes for me to prepare this classic Britain recipe and I loved it, prepared the lemon curd sponges and enjoyed the remaining lemon curd with bread toast.
Basic Information:
Preparation Time: < 10minutes
Cooking Time: 15 minutes
Makes: 1 cup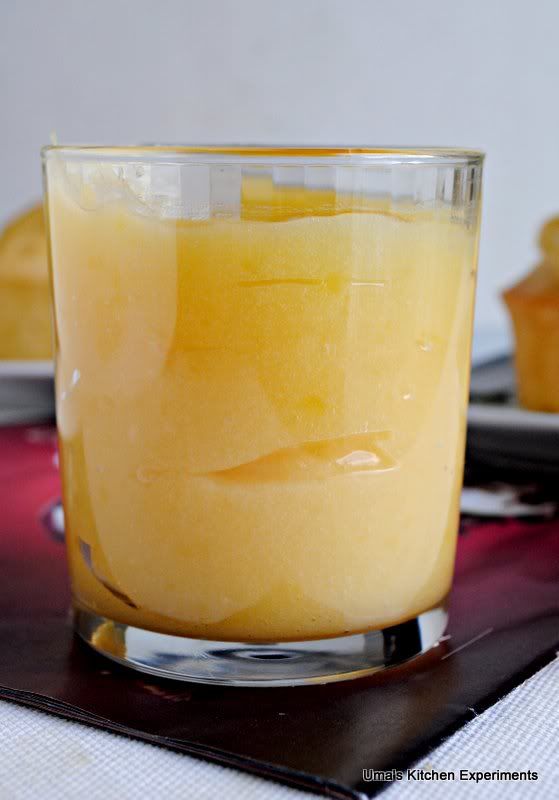 Ingredients:
Large eggs – 2 nos
Granulated sugar – 1/2 cup
Fresh lemon juice – 1/4 cup (Juice from 1 and 1/2 lemons)
Unsalted butter – 2 tablespoons
Lemon zest – from one lemon/ a teaspoon
Method:
1) Bring all the ingredients to room temperature.
2) In a steel bowl, add eggs, sugar and lemon juice and whisk well.
3) Using a double boiler method(Simmer a saucepan of water on stove and place the steel bowl above of it), heat the mixture and keep stirring to avoid curdling of egg till you get a thick sauce. It will take about 10 minutes.
4) When it became thick, remove from heat and add butter and lemon zest. Keep stirring till the butter melts.
5) Take a cling wrap and cover the lemon curd in such a way that the wrap should touch the surface of the lemon curd. It will avoid the skin forming on the top.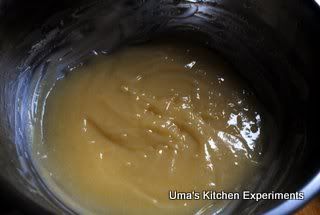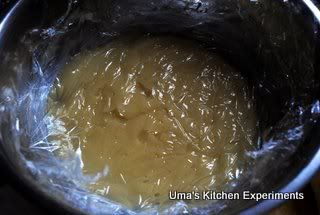 6) Allow it to cool. It will become thicker when it cools down.
7) Store in a air tight container and keep in refrigerator for a week.
Stay tuned for the lemon curd sponges. 🙂