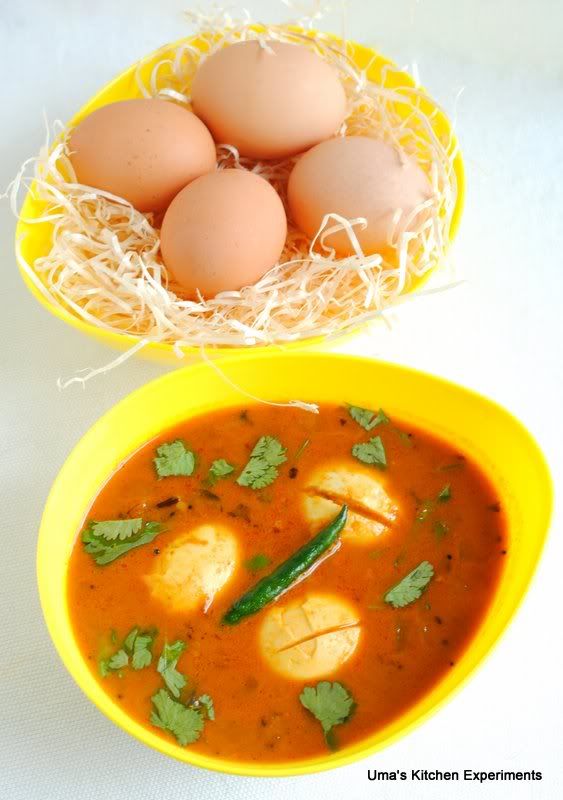 After a busy and fun filled weekend, I must say this Monday is boring and I don't know why I feel lazy all the time of this day every week!!!aaarrrggg!!! I somehow pulled myself and cooked some good stuffs today but the process of it is little lengthy to type and thus I am jumping to some simple recipe in my draft.
Since no one at my home is fond of hard boiled eggs, I prepare this pulusu once in a blue moon. But it helps in situation when I don't have any vegetables. yes! With only onion and egg, you can finish preparing this. Addition of tomato is absolutely based on personal preference and add it if you have.
Basic Information:
Preparation Time: 20 minutes
Cooking Time: 25 minutes
Serves: 2-3
Ingredients:
Egg – 3 nos, hard boiled
Tamarind – 1 small gooseberry size, +/- according to the sourness of the tamarind.
Onion – 1 small size, chopped
Coriander powder – 1 teaspoon
Red chilli powder – 1 teaspoon
Turmeric powder – a pinch
Salt – to taste
Oil – 3 teaspoons
Mustard seeds and urid dal – 1/2 teaspoon
Cumin seeds – 1/2 teaspoon
Fenugreek seeds – 1/2 teaspoon
Curry leaves – 1 string
Method:
1) Boil eggs in sauce pan filled with water for 20 minutes. Meanwhile chop onion and soak tamarind in a cup of warm water.
2) Remove the shell of eggs and set aside after boiling. Extract the juice from tamarind and keep aside.
3) Take a pan and heat oil in it.
4) Add fenugreek seeds,cumin seeds, mustard seeds and urid dal. Let them splutter.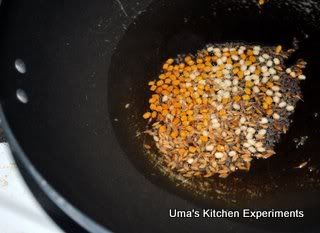 5) Add curry leaves,chopped onions and saute till they are translucent.
6) Add tamarind juice along with red chilli powder, coriander powder and turmeric powder. Add salt to taste.
7) Mix well and allow it to boil. Then cover and simmer it for 10 minutes.
8) Now, prick the eggs using a fork and add them to the hot gravy.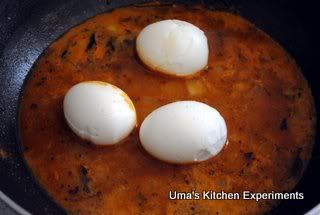 9) Continue cooking in simmer and when the gravy starts to thick and oil separates from the gravy, remove from flame.
10) Garnish with coriander leaves and serve hot with rice.