We call this snack at home as Chekkalu(Telugu name) but it is very
well know for its Tamil Name – Thattai. It is nothing but a flat rice
savory crackers deep fried in oil which is mostly prepared during the
festival seasons in India.
A week before Diwali festival, I thought of preparing thattai as one my Diwali snacks and I called my granny to get notes of it. She suggested me few versions. After checking the availability of the ingredients for all versions, I chose this version as I found it was easy. I had helped my granny many times to make thattai but this was the first time I prepared it without anyone's help. Though this version sounds easy, It needs quite a lot patience to make perfect shaped thattai and it is again depending on how better you make the dough. So, while making dough take care at each step when you add water.
If you love thattai with a cup of tea, then,
you will not prepare only for festival. 🙂
Here comes the recipe!!!
Basic Information:
Preparation Time: 45 minutes
Cooking Time: 20 minutes
Makes : 30-40 Thattais (approx count)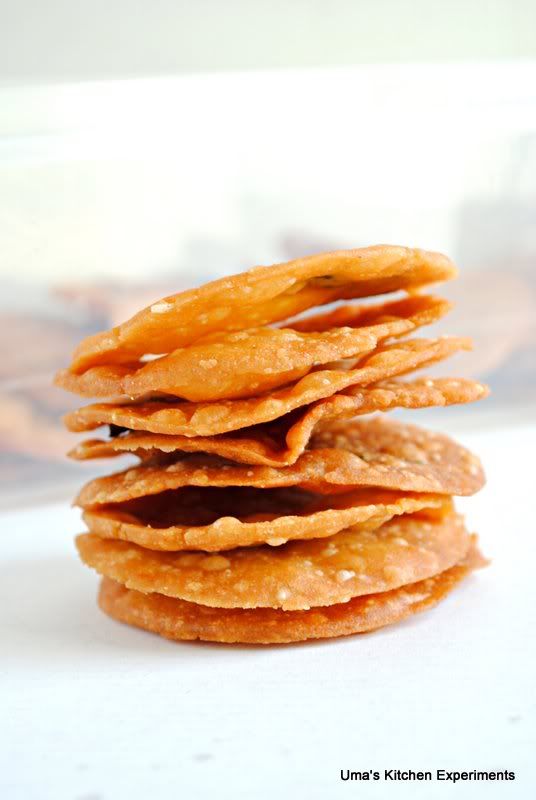 Ingredients:
Rice flour – 2 cups
Channa Dal – 2 tablespoons (soaked in warm water for 15 minutes and drain while adding)
Sesame seeds – 1 teaspoon
Red chilli powder – 1 teaspoon
Asafoetida – a pinch
Salt – to taste
Butter/Vanaspati/Hot oil – 2 tablespoons
Curry leaves – 3 strings
Oil – for deep frying
Water – 1 cup
Method:
1) Combine all the ingredients except water and oil in a mixing bowl.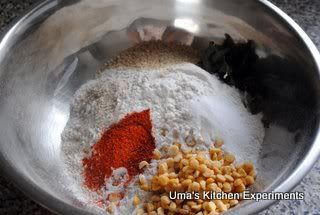 2) Heat water and add to the mixing bowl little at a time till you form a smooth dough. See to the salt and spicy and adjust accordingly. The temperature of water should be above luke warm and below the boiling point.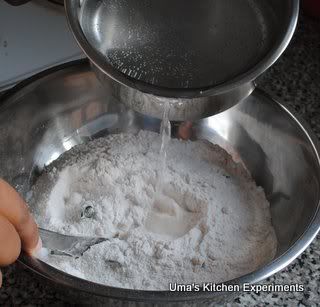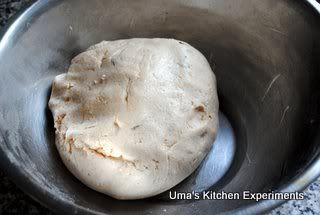 3) Divide the dough into small size (approx 1 inch) balls. Place the ball in oil coated ziploc bag or cling wrap or any food wrap. Press in evenly with your fingers to form round shape. Below are few other methods that you can try to make thattai. Choose any one to which you are comfortable.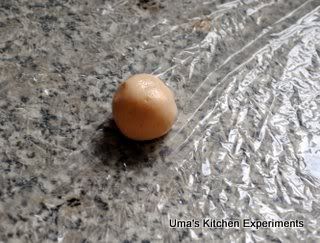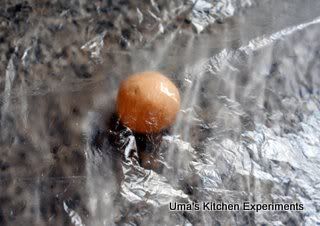 (3a) After placing the ball in oil coated Ziploc bag, place another Ziploc bag above it(I used large cling wrap and in one corner placed the ball and used the other corner to cover it) and press it evenly using a flat 2-3 inch diameter cap of container.(I used Nutella bottle's cap) This way you can get a even, round shape.
(3b) Roll like chappathi and cut them into round shape using a cookie cutter. But for this version, It is little difficult to do this method.
4) Once you made the thattais, place them in a clean white damp cloth or in a newspaper.
5) Now heat oil in a wide pan. check the oil temperature by dropping a very small pinch of dough. If it comes out to the surface of the oil, drop the thattais one by one and deep fry them in a batch. At a time you can add 4-5 thattais. Fry it in medium temperature for best results.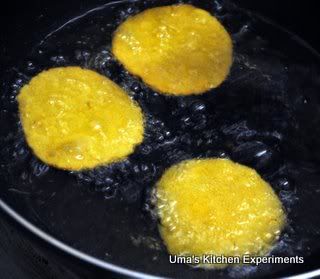 6) When the thattai turns to golden brown remove from oil and place in the bowl containing a paper towel to absorb the excess oil.
7) Cool to room temperature and store in a air tight container. It can be stored upto 2-3 weeks.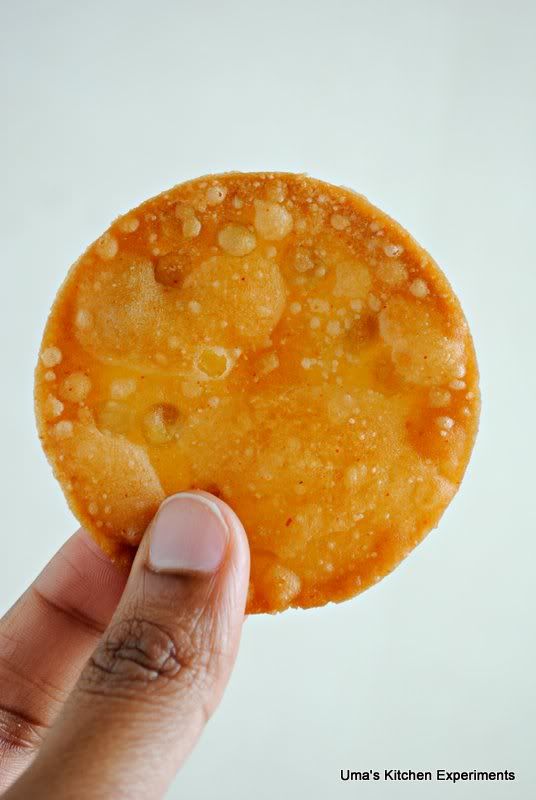 Note:
1) If you are not getting round shape, don't worry but make sure you are getting some shape and able to place in the oil without breaking it. If it breaks, the dough is not in the correct consistency.
2) Increase the channa dal quantity to your personal preference.
3) Adding hot oil instead of butter will make the thattai to absorb less oil while deep frying.