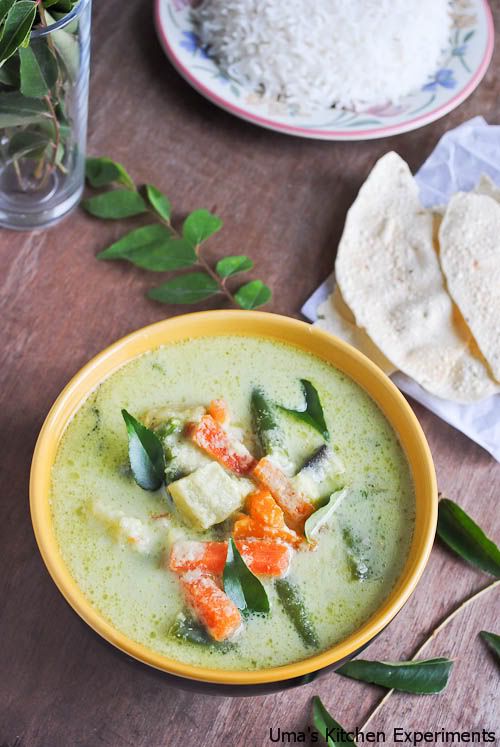 Getting fresh Indian vegetables/fresh coconut in the place where I stay is once in a blue moon. Right from the time I started this blog, I wanted to post traditional recipes, but they were getting postponed due to lack of ingredients at my place.
So, when I find and buy fresh coconut or any other native vegetables I try to cook some traditional dishes as soon as possible before they lose it's freshness. This time, I have prepared Avial with limited ingredients what I had.
Avial is nothing but an assortment of vegetables cooked with coconut, curd and seasoned with aromatic coconut oil. Avail can also be prepared in thin gravy consistency or thick consistency. It is a popular recipe often related to Onam sadya and can be traditionally served with steamed rice or with adai.
Basic Information:
Preparation Time: 15 minutes
Cooking Time: 20 minutes
Serves: 4
Ingredients:
For Avial:
Mixed Vegetables – 3 cups – Any vegetables like Carrot, Beans, Potato, Drumstick, Eggplants, Yam, Plantain (Vazhaikkai), Peas, White pumpkin(Vellai Poosanikkai), Raw mango, Cucumber, Snake gourd(Pudalangai), Bottle gourd(Suraikkai)
Turmeric powder – a big pinch
Salt – to taste
Thick sour curd/ Yogurt – 1/2 cup
For Grinding:
Fresh coconut – 1 half shell of medium size coconut , shredded or finely chopped
Green chillies – 3 nos
Cumin seeds – 1 teaspoon
For Seasoning:
Coconut Oil / Vegetable Oil – 1 tablespoon
Fresh Curry leaves – 2 strings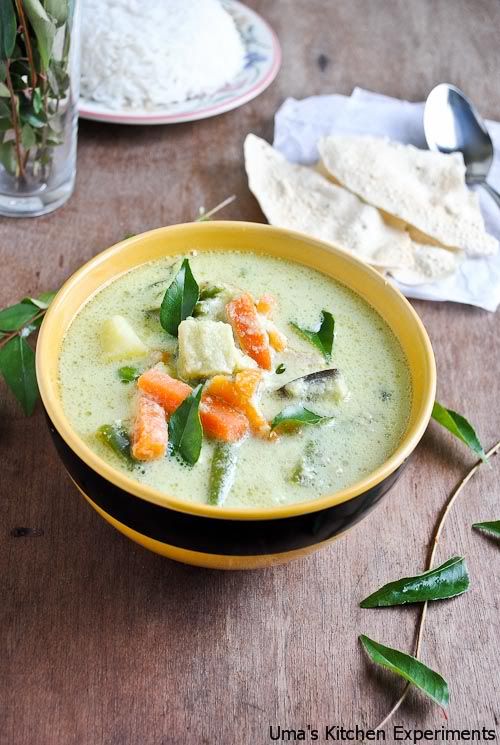 Method:
1) Chop vegetables into 2 inch length pieces.
2) In a saucepan, mix vegetables, turmeric powder, salt and 3/4 cup of water.(If you need thick avial, add water just enough to cook vegetables) Cover and cook it for 5 minutes in medium to high flame or till the vegetables are 3/4 th cooked.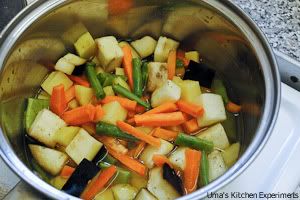 3) When vegetables are cooking, grind the ingredients given for grinding with water just required for grinding. Do not add too much of water.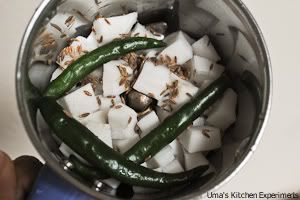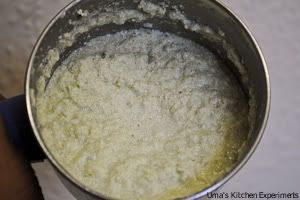 4) Add the ground ingredients to the vegetable mixer. Mix well. Cook till it boils.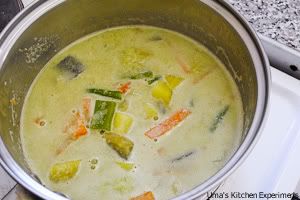 5) Meanwhile, In a seasoning pan, heat coconut oil and add half of curry leaves when it is hot.
6) Pour this seasoning to the avial. Add remaining curry leaves and turn the flame off. Mix well.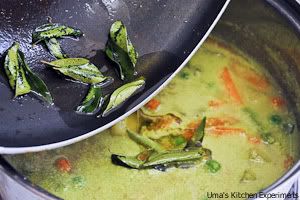 7) Now, add sour curd and mix well. The heat in the pan itself enough for the curd.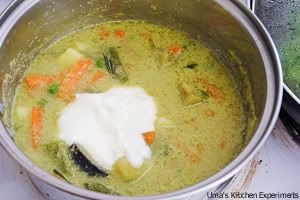 8) Avial is eady and serve with steamed rice or Adai.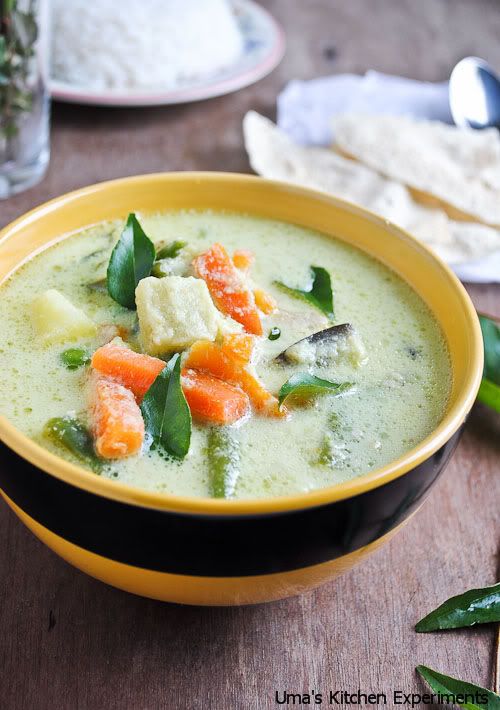 Note:
1) You can use any vegetables available at hand. For quick cooking of vegetables, use pressure cooker. However, the time taken for preparing the avial is almost same.
2) Make sure to chop quick cooking vegetables into bigger sizes and slow cooking ingredients into slightly smaller sizes, if your are going to cook in one bowl.
3) I used one large carrot, 5 beans, 2 small potatoes, 2 eggplants, 1/4 cup of peas for this recipe.
4) If you are using raw mango, reduce the sour curd quantity to half. If you do not have curd or don't want to use curd, add a big pinch of tamarind extract along with ground coconut paste.