I love pickle and I used to have it daily along with my meal. Now being here, I solely depend on pickles that are bought off-shelf. I find these pickles as too salty and most of the time, I don't eat and it ends up in my bin. When I came across Instant lemon pickle recipe at sashiga'sspace, I felt very happy and talked about this to my mom over phone. She told that she also prepares it sometimes and described me the method. I found both the methods are same except the way the lemons are cooked. Here I take you through both the methods. You can choose whichever method as it suits you.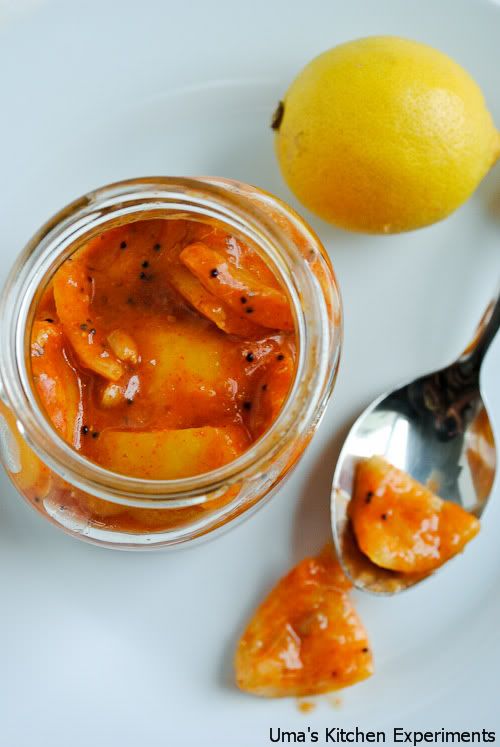 Basic Information:
Preparation and cooking time: 10 minutes + 20 minutes for cooling
Makes: 1 and 1/2 cup approx.
Ingredients:
Yellow Lemons – 5 large nos
Red chilli powder – 2 teaspoons/ as per taste
Roasted fenugreek powder – 1/2 teaspoon
Salt – to taste
Sesame oil – 2 tablespoons / as per preference
Mustard seeds – 1/2 teaspoon
Asafoetida – a pinch
Method:
1a) Take whole lemons in sauce pan and pour boiling water until the lemons are fully immersed. Cover and keep it aside for 20 minutes. then, drain the water and cut the lemons to desired size.
or
1b) Slice the lemon according to your desired size. Put the sliced pieces in saucepan and add little water. say about <1/4 cup. Cook just enough to soften the lemon pieces. Make sure not to over cook as they taste bitter. Once it is done, keep aside with water. (Picture shown for this method)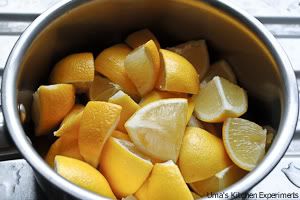 2) Prefer any of the above method to cook lemons and bring them to room temperature.
3) Add red chilli powder, roasted fenugreek powder, asafoetida and salt. Toss it well.
4) Heat oil in kadai/seasoning pan. Add mustard seeds when it is hot and remove from heat. Allow this seasoning to cool to room temperature and add to lemon mixture. Toss well.
5) Store in sterilised bottle and serve with this rice.
Note:
1) Do not cook lemons for long time. It might taste bitter if you do so.
2) Try to use sesame oil for authentic taste.
3) I prepared it last week and it has stayed good till now. Do not forget to refrigerate.