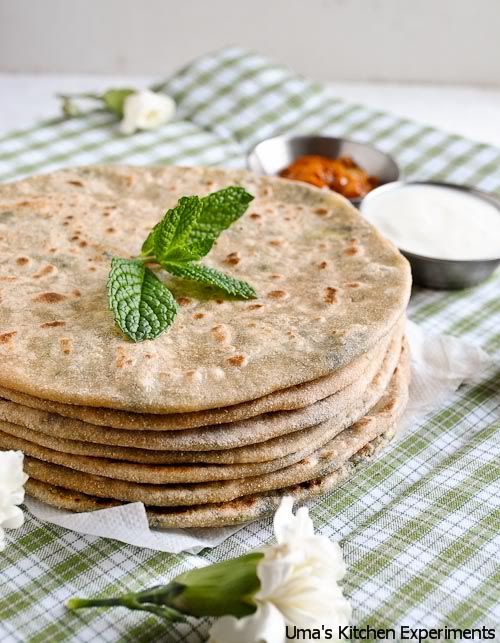 I have been trying to post this recipe for two months and finally I am done today! As this spinach stuffed paratha is not everyone favourite at home, I prepare only when I have big bunch of spinach and nothing to prepare anything else. but I prepared it quite a few times in last month itself for the purpose of blog.
First time, I took the stepwise picture and hungriness of mine pushed out the feelings of taking the final paratha picture. Second time, I took the final picture but it didn't match well with the stepwise pictures. Finally, I decided to make everything from start to end and clicked all. I counted the number of photos and they are 54 including the stepwise pictures. Even then, It took 2 hours for me to select good looking picture. I was little bit got irritated and asked the husband for help. but, he simply replied me to prepare one more time (!?) and take a picture of all again. I know it might take one more month to post this and I can not make this post to sit so long in my draft.
If you wonder what could be the white particles on the paratha, yes, it was flour which I used to roll the parathas. As my kitchen was little dark, I noticed them only when I brought them out to click a picture of it. This was the reason which delayed me to choose good picture. I thought not to do this again after seeing my gobi paratha post. but somehow, it was repeated. 🙁 When you are preparing, make sure to wipe off the excess flour in the rolled paratha.
Basic Information:
Preparation Time: 40 minutes
Cooking Time: 30 minutes
Makes: 7-8 parathas

Ingredients:
For Dough:
Wheat flour / atta – 2 cups
Wheat flour for dusting – 2 tablespoons or as required
Salt – to taste
Water – 3/4 -1 cup
Oil – 1 teaspoon
Butter/Oil – 2 tablespoons / as required
For Stuffing:
Baby spinach – 4 cups, correctly packed
Potato – 1 no, large size, boiled and mashed
Red chilli powder – 1 teaspoon
Salt – to taste
Cumin seeds – 1/2 teaspoon
Oil – 3 teaspoons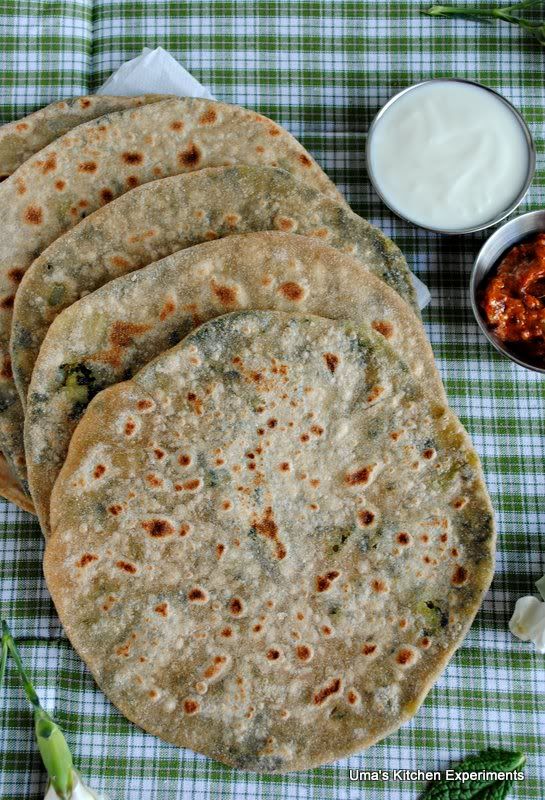 Method:
For dough:
1) In a mixing bowl, add wheat flour and salt. Make a dough by adding water little at a time.
2) When the flour is not sticking to your hand, add oil.
3) Knead it for 5 to 10 minutes.
4) The final dough should be very firm and soft.
5) Cover using wet towel and keep aside.
For stuffing:
1) Wash spinach and pat dry them well using kitchen towel. Alternatively, you can wash in advance and dry them by spreading in newspaper. Once they are dry,chop them roughly.
2) Take pan and heat oil in it. Add cumin seeds when it is hot and allow it to crackle.
3) Add chopped spinach and stir fry them. In 2 minutes, you can see the water comes out from spinach leaves. Cook it till the water evaporates.
4) Add red chilli powder and salt now. Continue frying till the raw smell of red chilli powder goes off.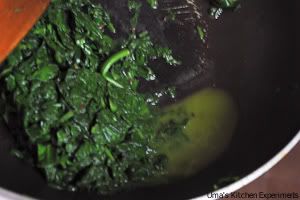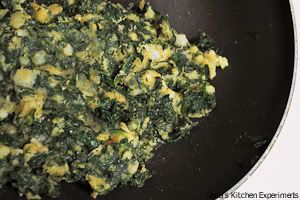 5) Turn off the flame and add the potato. Mix them well.
For making paratha:
1) Divide the dough into equal size balls.
2) According to the dough count, divide the stuffing into balls.
3) Take one ball and roll into small circle. Place one stuffing ball in center of it and using the corner of dough cover the stuffing ball.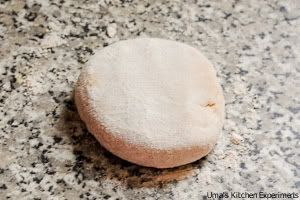 4) Pinch of the excess dough and gently press the stuffed dough using your fingers.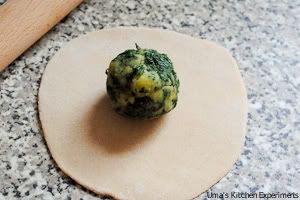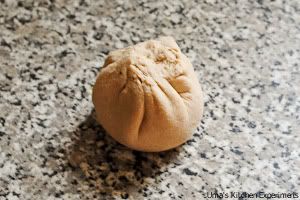 5) Roll it to a round shape. Repeat the steps to other dough balls.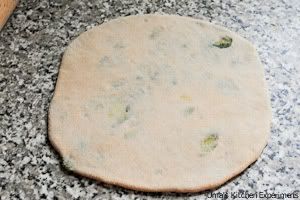 6) Heat a tawa/skillet and coat the surface with butter or oil.
7) Put the stuffed paratha and cook it.
8) Once the bottom side is cooked, turn the paratha using spatula to cook other side.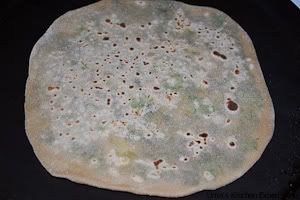 9) Repeat the above step for remaining parathas. Make sure to cover the cooked paratha with foil or dry plate to keep it soft.
10) Serve hot with curd and pickle.
Note:
1) Add 1/4 cup of cooked and mashed peas with this spinach stuffing to get other variation.
2) You can skip potato. I have added it to make the rolling process easy.