Growing up in southern part of Tamilnadu, I have tasted parotta quite often in roadside shops. During those days, roadside shops mean to me only for parottas. But getting a vegetarian version of parotta is little difficult as it was mostly prepared and served with egg, chicken and meat. Because of this reason, we usually get only parottas from shops and prepare vegetable kurma at home and enjoy them. Till now, It is one of the dishes which I prefer to eat in Indian restaurants without fail.
When I saw the frozen parottas from Indian grocery shop last week, memories brought me back to my childhood days and made me to buy them immediately. But the frozen parottas are little hard and gave me an idea about preparing vegetable kothu parotta, a famous street food of south India.
Almost everyone from India might have tasted this street food. Especially, the egg version is very famous among other types of kothu parotta. A flaky paratha or layered flat bread which is prepared using butter/oil and maida(Plain flour) is minced and cooked with vegetables and spices. With the same procedure, a beaten egg can be added for extra taste which is called Muttai Parotta (Egg version).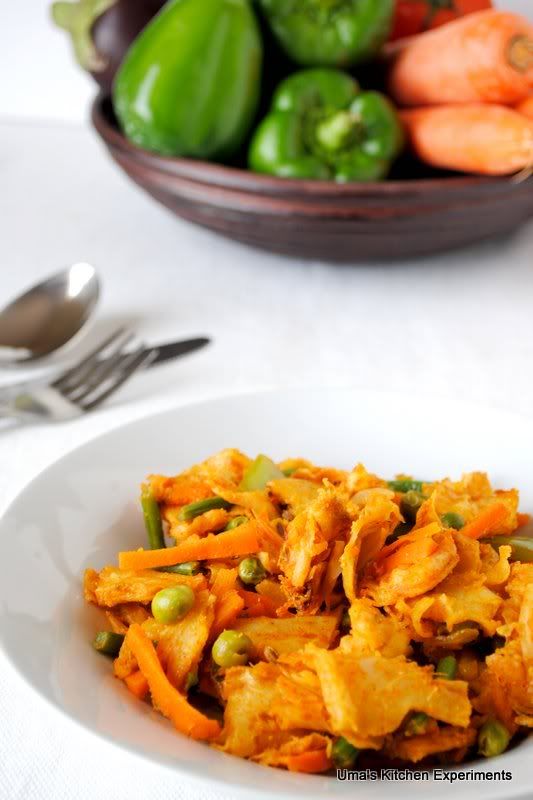 Basic Information:
Preparation Time: 10 minutes
Cooking Time: 30 minutes
Serves: 2
Ingredients:
Parotta / Flaky Parathas – 4 nos (I used store bought ready to use flaky parathas)
Mixed Vegetables – 2 cups, sliced (I added Carrot, Beans, Green and Yellow Capsicums and Peas)
Onion – 1/4 cup, finely chopped
Tomato – 1 no, finely chopped
Ginger Garlic Paste – 1 teaspoon
Green chilli – 2 nos, minced
Coriander powder – 1 teaspoon
Red chilli powder – 1/2 teaspoon
Turmeric powder – 1/4 teaspoon
Salt – to taste
Cumin Seeds – 1/2 teaspoon
Fennel Seeds – 1/2 teaspoon
Oil – 1 tablespoon
Coriander Leaves – for garnishing (I didn't add)
Method:
1) Slice vegetables into 1 inch length pieces.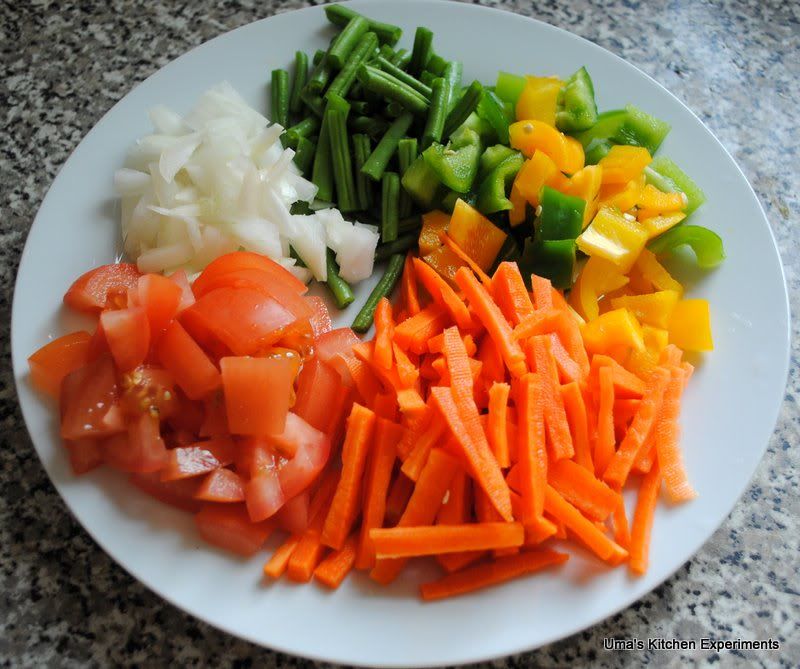 2) Cut the flaky paratha into small chunks using hand or knife.
3) Heat a tablespoon of oil in a wide pan. Add cumin seeds and fennel seeds when it is hot. Allow them to turn brown.
4) Add chopped onions. When onions are half done, add ginger garlic
paste and minced green chilli. Saute till onions turn soft and well
cooked.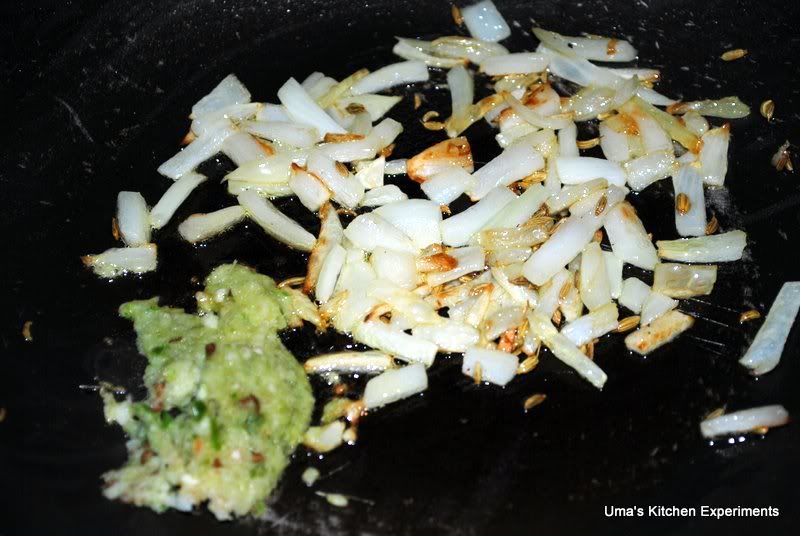 5) Add Tomatoes and continue sauteing till tomato completely mashes.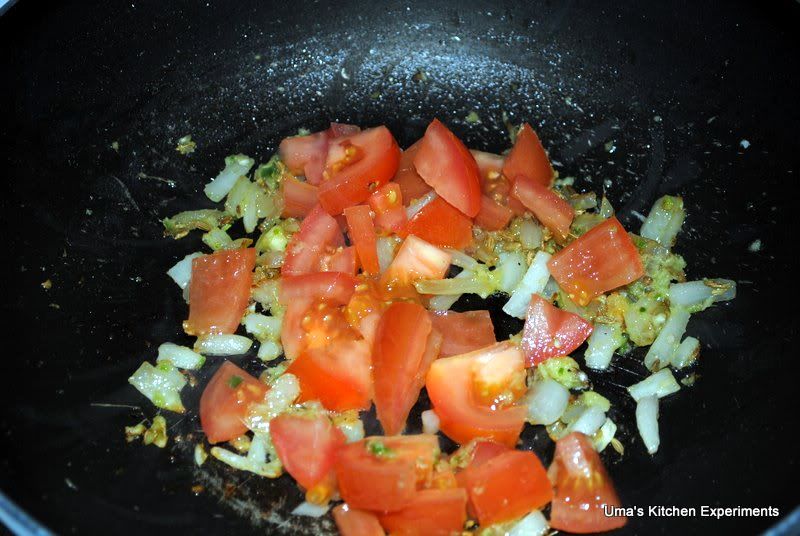 6) Add vegetables and sprinkle little water. Turn the flame to low and cover the pan using lid to cook the vegetables.
7) Once vegetables are cooked and no water left in the pan, add coriander powder, red chilli powder, turmeric powder and salt. Fry till the raw smell of spices goes off.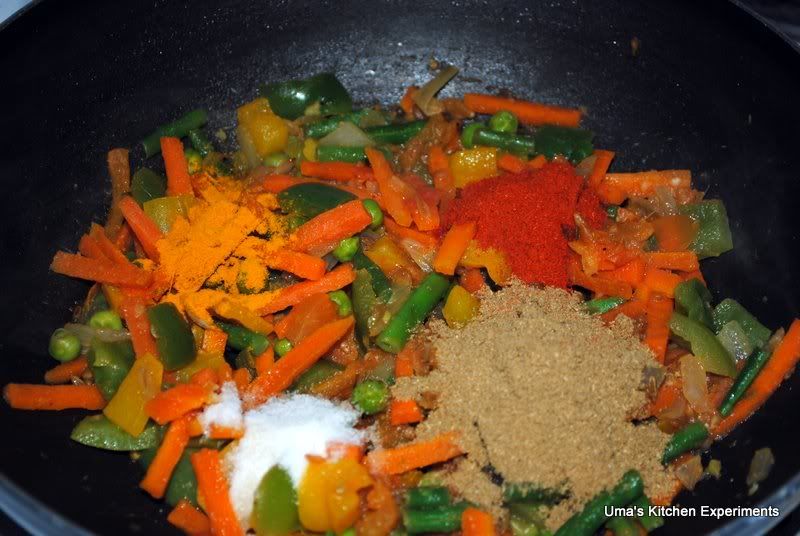 8) Now add the minced parathas and toss them well and make spices to coat the minced parathas.
9) Cook for 2 minutes and remove from flame.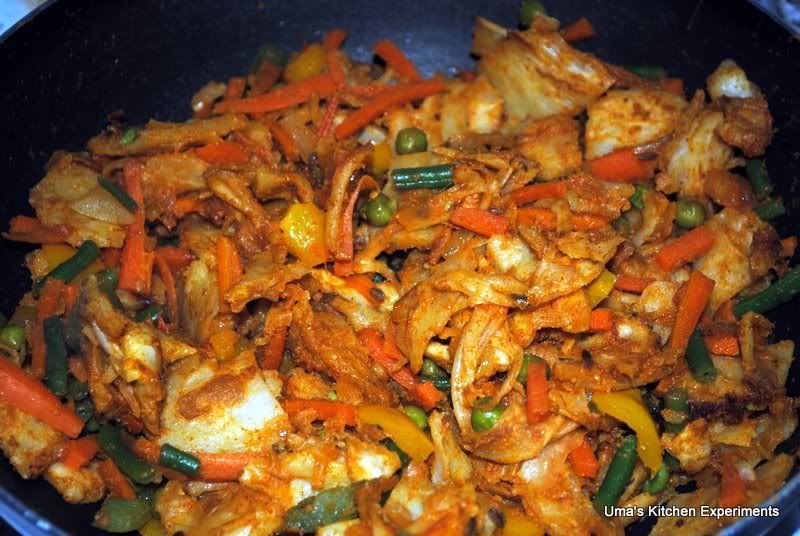 10) Garnish with coriander leaves and serve hot with any raita.
Note:
1) You can add any vegetables to prepare this kothu parotta.
2) Curry leaves can also be added for seasoning.
Sending this recipe to Simply Food's Flavors of South India.