I hardly have no recipes at hand to post as I am little bit busy in getting ready for diwali. So till Diwali, I thought of posting few simple and handy recipes and here comes the spinach raita first in the queue.
Did you know? It is said to be having yogurt may help you to live longer, that means it may add years to your life.
Basic Information:
Preparation + Cooking Time: <15 minutes
Serves: 3
Ingredients:
Baby Spinach – 2 cups
Yogurt – 1 cups
Black salt / Salt – to taste
Cumin seeds – 1/2 teaspoon
Red chilli powder – 1/2 teaspoon or to taste

Method:
1) Wash the spinach leaves and microwave for 2 minutes to cook them. You can also cook them in stove top method.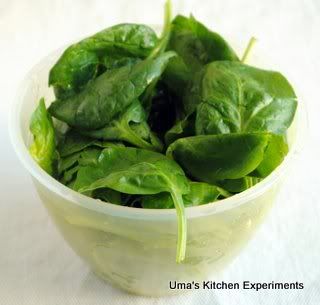 2) Meanwhile, Take thick yogurt in a bowl and beat well.
3) Crush cumin seeds in between your palms and put them in yogurt.
4) Add black salt and red chilli powder. Mix well.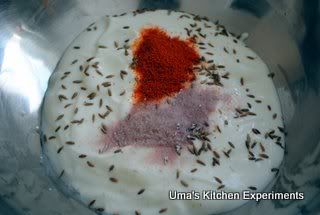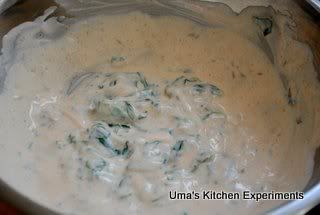 5) Add spinach leaves and mix well. Serve with soya chunks biryani or chicken biryani.
Note:
1) You can also add fried onions and ground black pepper to this.
2) Addition of fresh crushed cumin seeds will give good flavor. If you have roasted cumin powder, you can use it instead of cumin seeds.