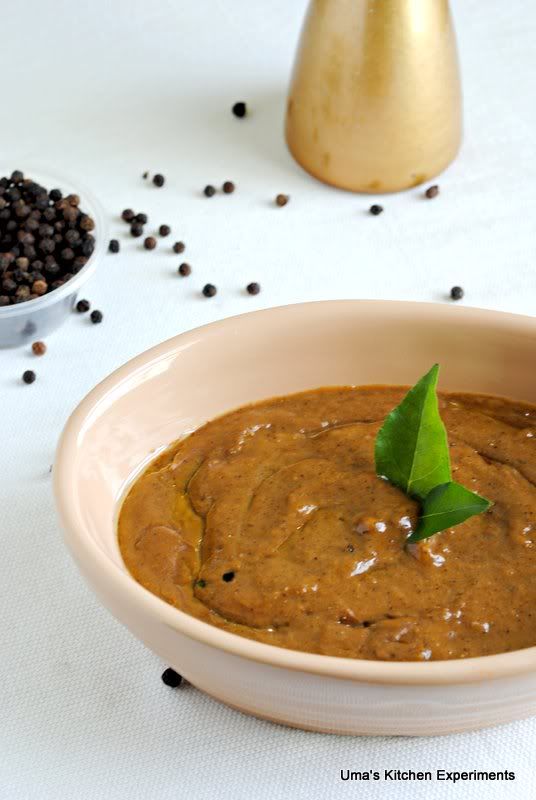 When I am writing this post, my mind is thinking about my mom, my childhood days and how she struggled to feed few healthy recipes to my sis and myself. Those days, whenever my mom cooks this milagu kulambu, we both run away and hide somewhere to skip the meal. Hiding under the bed is our favorite place where she feels little difficulty to bend and pull us. As we both feel the gravy is too hot and simply say 'NO' to her and go for some curd rice. But she never leave us and feed the food with gravy using her hand. So, with no other go, we eat them.
Days passes and we started to realise the health fact behind it, we slowly started to eat and now whenever we visit our home town, we ask her to prepare it and it has become one of the most wanted gravies from mom. But, she still mixes this gravy with hot rice and makes balls and feed us. She is always great. Love you Mom!!!
Did you know? As black pepper helps digestion and avoid intestinal gas, it is mostly prepared after any festival treat and considered as pathiya saappadu(A light meal which is usually taken after a heavy feast to help/lighten the digestive system)here in Tamilnadu, India.
Basic Information:
Preparation Time: <10 minutes
Cooking Time: 30 minutes
Serves: 5-8 people
Ingredients:
For Gravy:
Tamarind – 1 lemon size
Water – 1.5 cups
Salt – to taste
To Dry Roast and Grind:
Black pepper corns – 1 tablespoon
Channa dal – 1 tablespoon
Urid dal – 1 tablespoon
Coriander seeds/ coriander powder – 1 tablespoon
Dry red chilli – 1 or 2
Curry leaves – 1 string
Asafoetida – 1/8 teaspoon
For Seasoning:
Oil – 1 tablespoon
Mustard seeds and urid dal – 1/2 teaspoon
Curry leaves – 1 string
Method:
1) Soak tamarind in half cup of warm water. Set aside. let it be for 10 minutes.
2) Meanwhile, dry roast all the ingredients given for dry roast till the mixture releases nice aroma and the dals became golden brown. It might take 7-10 minutes.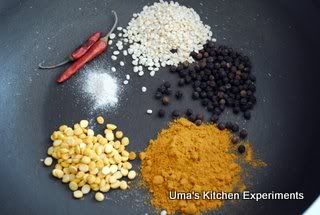 3) Transfer the roasted ingredients to a dry plate and allow it to cool.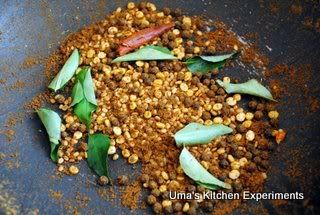 4) Now, extract juice from tamarind by adding the remaining water and boil it in a saucepan.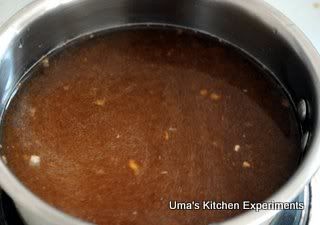 5) When it starts to boil, grind the roasted ingredients to fine powder and add to the tamarind juice. You can also add little water for grinding and make a paste.
6) Add salt and stir properly to avoid forming lumps.
7) Cover and cook till the gravy thickens.
8) When the gravy's consistency reduced to half, remove from heat and add the seasoning.
9) Milagu kulambu is ready.
10) Serve with steamed rice and pappadam.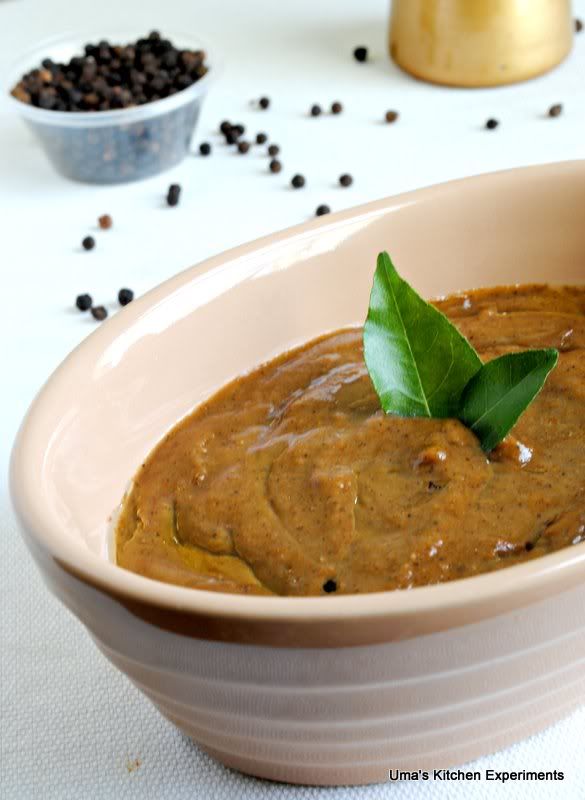 Note:
1) If you feel the gravy is taking time to thicken, mix a tablespoon of rice flour to water and add to the gravy to get thickness. but make sure to avoid lumps while adding.
2) You can also store this gravy up to a week or more.
Sending this recipe to Srivalli's Cooking without Onion and Garlic event.