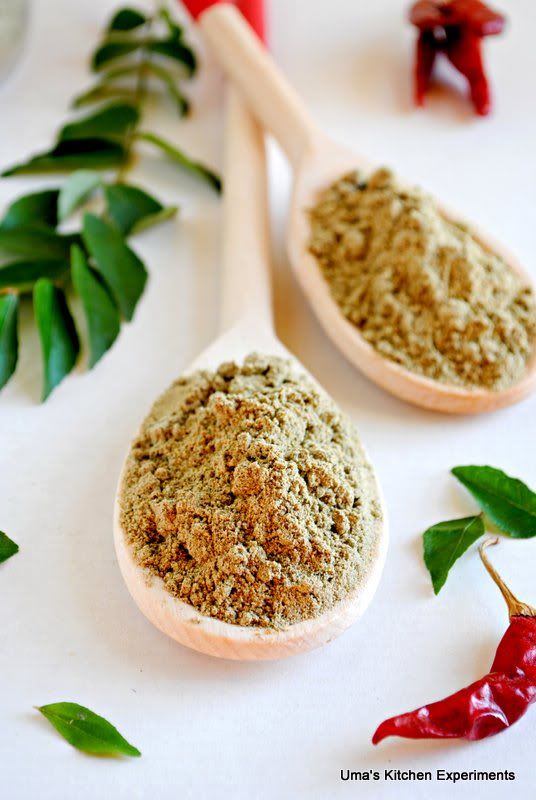 Whatever may the dish be, I used to incorporate curry leaves if it involves seasoning simply because of its health benefits. No matter whether it is fresh or dry! But for some reasons I love to use fresh curry leaves and whenever I run out of it, then only go for the dried curry leaves. So, I always store dried leaves in a container as a backup. For the past few weeks, I have got fresh curry leaves enough to my cooking and I totally forget about the dried one which was sleeping in my pantry.
As a result of cleaning process for diwali, I found this container of dried curry leaves. When you get some interesting, healthy ingredient in larger quantity, what will you do next if you are foodie? you definitely think about some recipe like I did. Yes! I first prepared Pollachi chicken masala using it and curry leaves powder with the remaining leaves.
Did you know? Eating 10 fully grown curry leaves every morning for three months will help to prevent diabetes due to heredity factors. (Source: Home Remedies Guide)
Basic Information:
Preparation Time: 20 minutes
Makes: 1 cup
Ingredients:
Curry Leaves – 2 cups
Urid dal – 1/4 cup
Channa dal – 2 tablespoons
Dry red chilli – 4 nos
Garlic – 1 clove
Salt – to taste
Method:
1) Wash curry leaves and dry them completely. It should not be wet.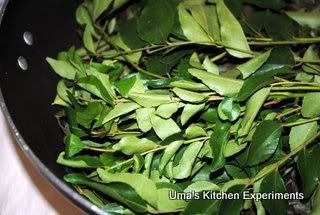 2) Dry roast curry leaves till they are crisp and nice aroma spreads out in the kitchen.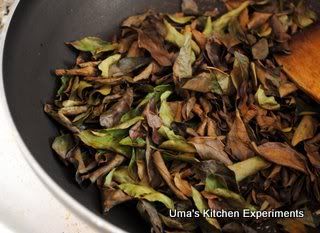 3) Then, dry roast channa dal, urid dal and dry red chilli till they become golden brown in colour.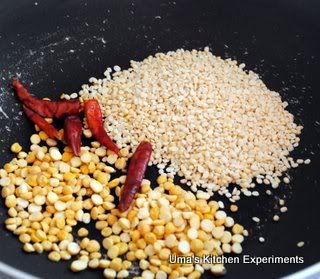 4) Remove from stove and allow all the roasted ingredients to cool.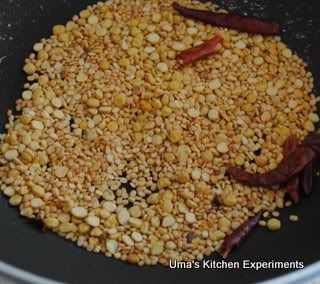 5) In a mixer/food processor, first add curry leaf and grind for 2 minutes.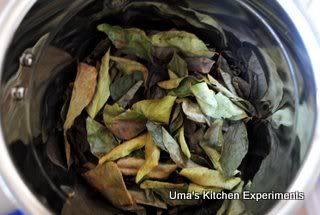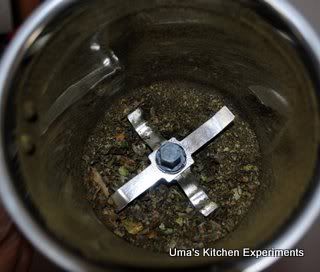 6) Then, add remaining ingredients and grind to a coarse powder.
7) Towards the end of grinding, add salt and chopped garlic. Continue grinding for few more minutes.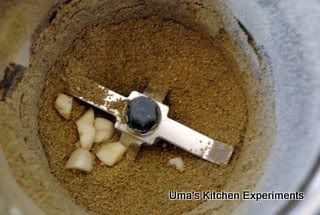 8) Store it in a air tight container and serve with idly, dosa and hot steamed rice.
Note:
1) I have used 50 % fresh and 50 % dried curry leaves to make the powder and hence I have got the colour as shown in the picture. If you use fresh one, you will get the dark green colour for the powder.
Sending this recipe to Akila's Dish Name Starts with K Event.