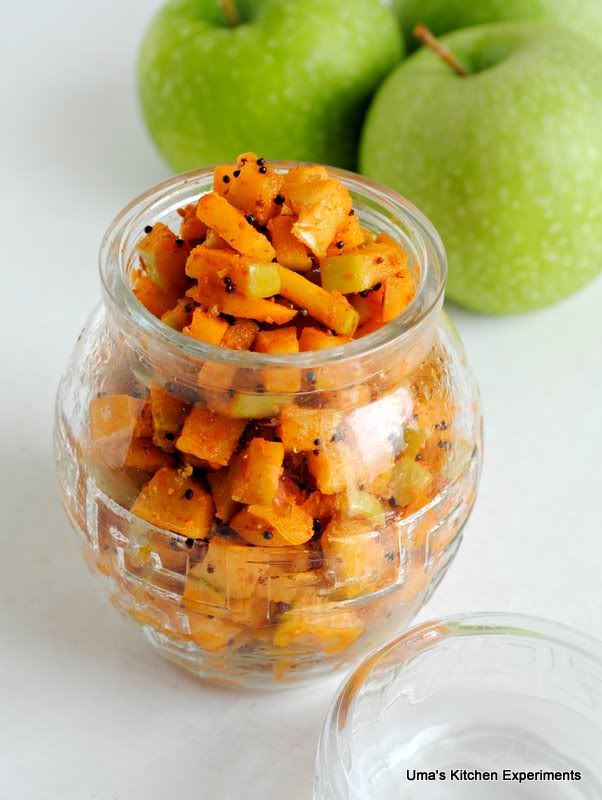 When Richa Priyanka announced her event for fruit curries, one dish that immediately struck my mind is Apple Pickle. But unfortunately, I couldn't prepare and post it before the event end date. The reason being my laziness. Am I really that lazy? :-p One thing that's synonymous with me is, whenever I come across any event, I tend to get ready with the actual dish but when to comes to posting it in my blog, I keep it postponing until the last minute. As the saying goes,"Better late than never" I thought at least posting now would be useful to anyone who loves fresh mango pickle.
This Apple pickle just taste almost like a sweet mango pickle and it can be considered as a perfect alternate for mango pickle especially during those seasons when mangoes are difficult to be bought. This apple pickle is as crunch as the mango pickle(see notes).
Did you know? Apples workout better to wake you up in the morning than coffee.
Basic Information:
Preparation Time: 10 minutes
Cooking Time: 15 minutes
Makes: 2 cups approx.
The video of the recipe making is available below.
Ingredients:
Cooking Apple/Granny smith Apple – 2 nos, medium size
Red chilli powder – 1 teaspoon or to taste
Turmeric powder – 1/2 teaspoon
Salt – to taste
Gingelly Oil – 2 tablespoons
Mustard seeds – 1/2 teaspoon
Curry leaves – 1 string
Fenugreek powder – 1/4 teaspoon, (dry roast them and make powder)
Asafoetida – 1/8 teaspoon
Lemon – 1/2 (optional)
Method:
1) Remove the core part of the apple and chop them into small pieces.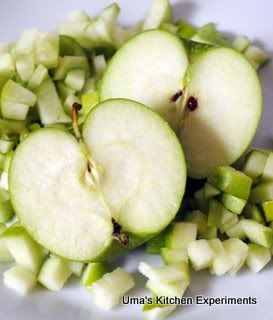 2) Add turmeric, salt and red chilli powder.
3) Toss them well and make sure the red chilli powder is coated well with all pieces. Cover and keep aside.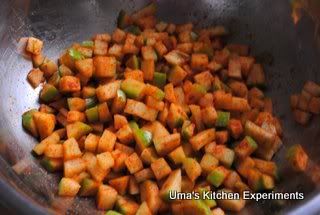 4) Heat oil in a pan. When it is hot, add mustard seeds, fenugreek powder, asafoetida and curry leaves.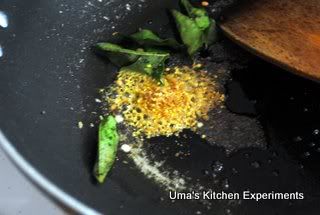 5) When mustard seeds splutter and aroma of it spreads out in the kitchen, add chopped apples.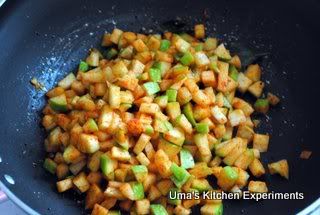 6) Stir and cook for 5 minutes.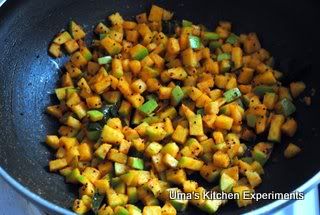 7) Remove from heat. Squeeze the juice from lemon if the apples are not sour enough. Allow it to cool to room temperature.
8) Store in an airtight container and refrigerate them.
9) Goes well with curd rice.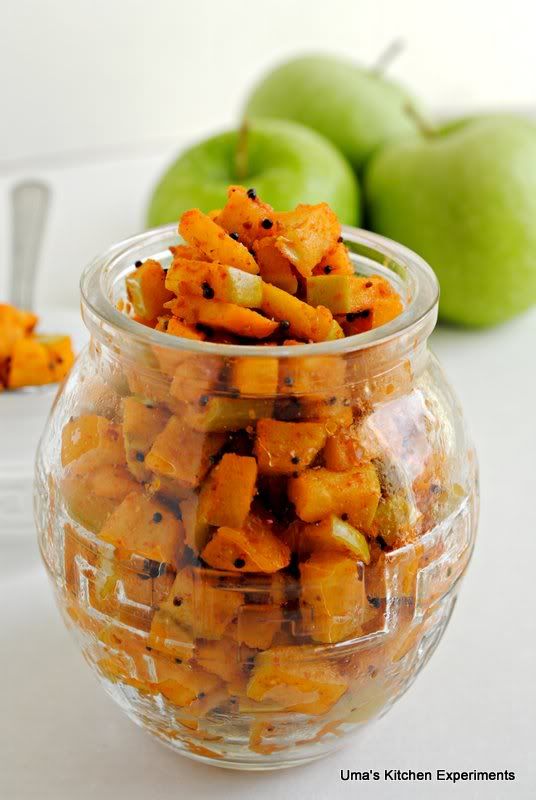 Note:
1) To maintain the crunchiness, I only cooked for 5 minutes whereas you can cook apples completely if you want to keep for a week or more
2) Add lemon juice only if the apples are not sour enough.
3) It can be served immediately or after 5-7 hours to make the apple pieces to absorb the flavor.
4) For the easy version, add all the ingredients together and mix well and instead if mustard seeds add mustard powder. No heating required.