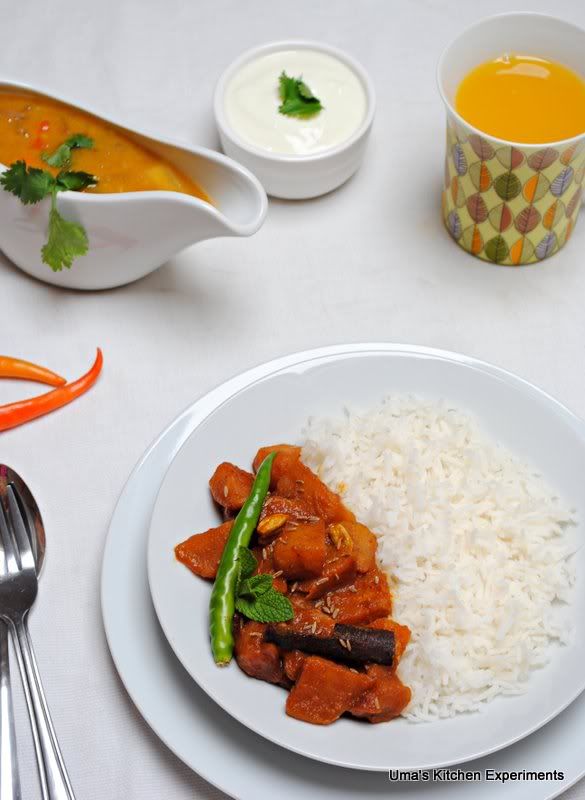 Curried Apple? That too from India? Sounds little weird, right? I felt weird and wondered too when I read Pat's India-Food & Cooking. He explained 200 Indian foods in his book covering almost all major states in India. I was little interested to know unknown factors of our Indian spices and the story behind few famous known curries. I have also tried few unknown Indian recipes from the book in my kitchen. One among them is Kashmiri curried apple.
As there are no picture given for this recipe in the book, I couldn't imagine about how the final outcome would look like. But the uniqueness of the curry pulled me and made me to try. I tried with few granny smith apples which were sitting in my fridge after I made the apple pickles. I followed his instructions and posted them with picture here. The curry tasted like eating sweet pumpkin with cinnamon and cardamom flavor. If anyone of you familiar with this curry give your views about it.
Basic Information:
Preparation Time: 10 minutes
Cooking Time: 25 minutes
Serves: 3
Ingredients:
Ghee/Butter – 1 tablespoon
Cooking Apple/Tart Apple – 2 nos, peeled, cored and cubed
Onion – 1/2 cup, chopped
Tamarind – 1 small gooseberry size
Green cardamoms – 3 nos
Cinnamon sticks – 1 inch
Black salt – 1 teaspoon or to taste
Cumin seeds – 1/2 teaspoon
Red chilli powder – 1 teaspoon or to taste
Turmeric – 1/8 teaspoon
Ground ginger – 1/4 teaspoon
Oil – 2 teaspoon
Boiled water – 1/4 cup
Method:
1) Heat oil in a wok and caramelize onions. Once it is done transfer to a plate. Allow it to cool and make a paste of it. Keep it aside.
2) In the same pan, heat ghee/butter. Add apples followed by red chilli powder, turmeric and ground ginger. Stir fry for 2 minutes.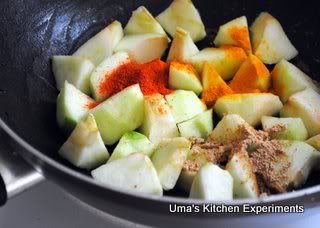 3) Add cardamoms, cinnamon, onion paste(as said in step 1), salt and mixwell.
4) Mix and squeeze the juice from tamarind using boiling water and add to the wok. Mix again.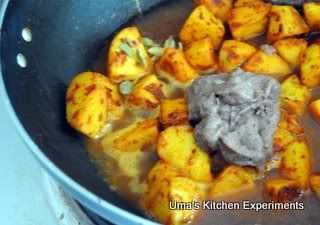 5) Cover the wok and cook apples for about 5 minutes. Makesure to maintain the firmness of the apples.
6) Crush the cumin seeds in between you palms and sprinkle on the cooked apples.
7) Serve hot.
Sending this recipe to Akila's Dish Name Starts with K Event.