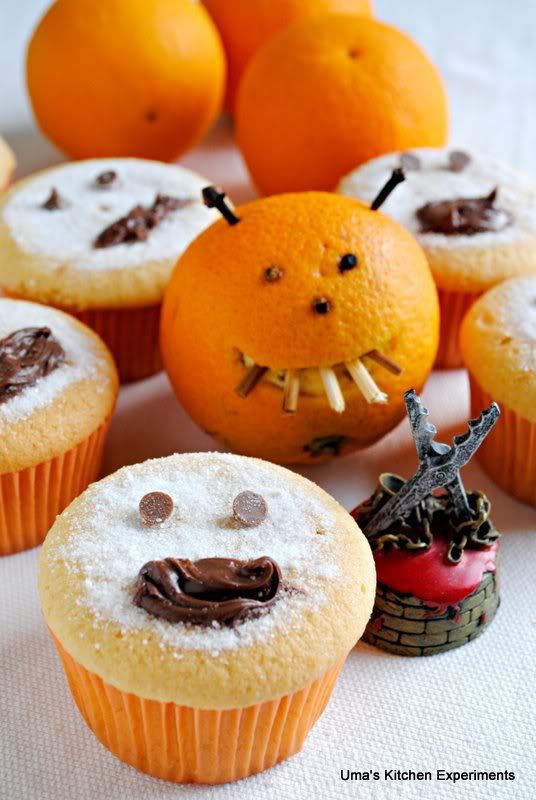 This year I prepared home made chocolate truffles for Halloween to gift my neighbourhood kids but in the last minute the kids count was high than expected. So I searched some simple recipe (aiming with available ingredients at my pantry) on web and got orange cupcake recipe from here. As I didn't get time to prepare frosting, I did very simple kids friendly Halloween decoration with chocolate chips and nutella. I prepared it in a jiffy and I need to say it disappeared in a jiffy. I first hesitate to blog this cupcakes because I felt the decoration is little sloppy, but the soft spongy orange taste of cupcakes made myself to compromise and post this recipe. Try the cupcake recipe and choose your own favorite frosting and enjoy them.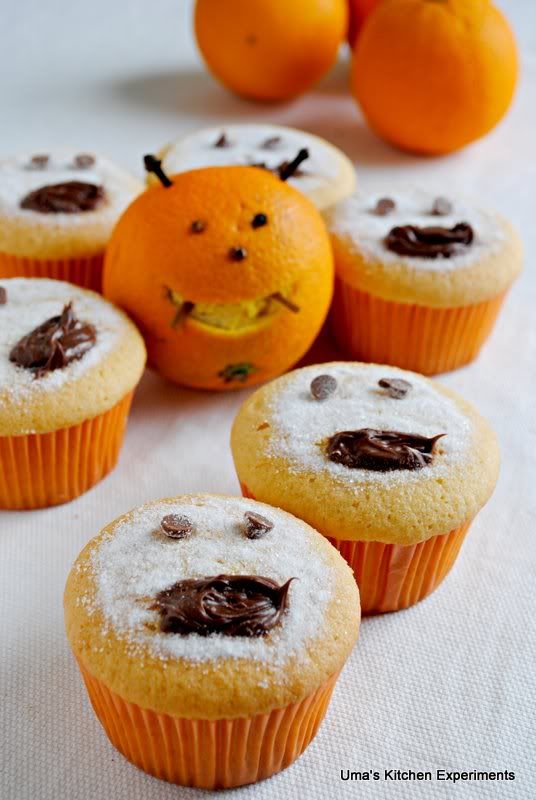 Basic Information:
Preparation Time: <15 minutes
Cooking Time: 18 minutes
Makes: 12 cupcakes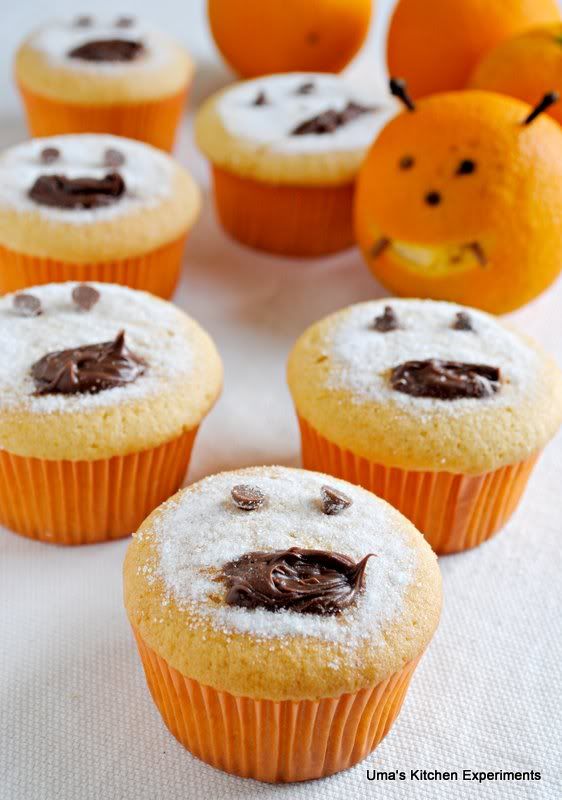 Ingredients:
For Orange Cupcakes:
Unsalted butter – 1/2 cup
Sugar – 2/3 cups
Egg – 3 nos
Plain flour – 1 and 1/2 cups
Baking powder – 1 and 1/2 teaspoon
Salt – 1/2 teaspoon
Fresh Orange Juice – 1/4 cup (I used store bought juice)
Orange extract – 2 teaspoon (I didn't use)
Orange food color – 2 drops (I added a drop from Dr.Oetker's red and yellow color and I got mild orange colour.)
For Quick Halloween Decoration:
Chocolate chips / Chocolate buttons – 24 nos
Nutella – 1/4 cup approx
Powdered sugar – 1/2 cup approx
Method:
For Orange Cupcakes:
1) First bring butter and egg to room temperature. Sift flour, baking powder and salt together and keep aside. Line the cupcake tray with cupcake liners. Preheat the oven to 180C(350F).
2) In a mixing bowl, beat butter until pale.
3) Add sugar and continue beating till you get the cream texture.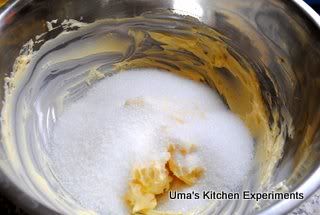 4) Add one egg at a time and beat well till all the eggs incorporated.
5) Add flour, baking powder and salt mixture and mix well.
6) Add orange juice, orange extract(If using) and orange food color. Mix well till all incorporated.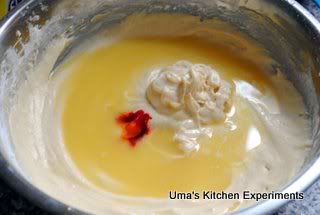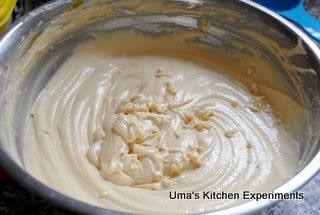 7) Spoon the cupcakes tray with 2/3 batter full.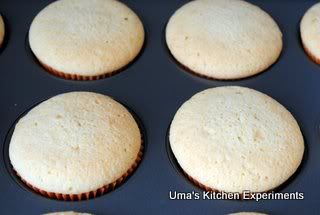 8) Bake it for 18 minutes or till the tester inserted in the center comes out clean.
9) Cool sometime and transfer to a wiring rock to cool completely.
For Quick Halloween Decoration:
1) Top the cupcake with powdered sugar.
2) Place the 2 buttons or chips on each cupcakes like eyes in the face.
3) Draw a mouth line using nutella. Instead of nutella, any jam also be used here.
Note:
1) The original recipe's frosting was excellent, I didn't do that because of unavailability of time. But I suggest to do that if you are going to try this cupcakes.
2) As I started preparing this recipe in last minute, I kept eggs in bowl of hot water for some time to bring it to room temperature. This is the tip I used from the original recipe.
Sending this to Vardhini's Halloween Fiesta and
Srav's Cooking concepts- Festive foods.