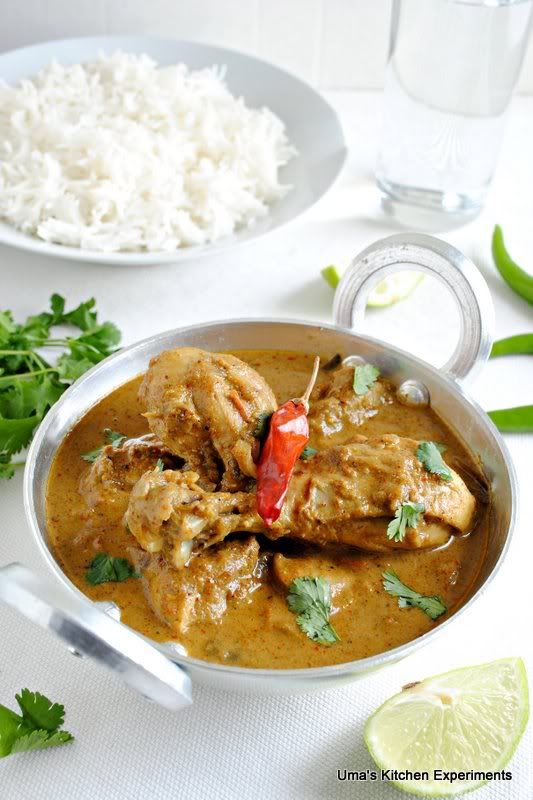 I started to cook egg, chicken and seafood recipes only few months back. Till now, I feel it is a challenging job and I am posting each recipe based on the husband's feedback. He is the one who guides me to prepare this or that when it comes to non-veg food. A month ago, he asked me to prepare a chicken gravy in chettinad style, I enquired few of my friends and some cook books. After experimenting few recipes, he liked this one from sailu's kitchen. Now it has become one of the repeated non-veg recipes at my home.
Chettinadu cuisine is a very famous cuisine in Tamil Nadu, known for it's use of spices and freshly ground masala. The Chettinadu based gravies are very rich and little spicy on taste. The flavour from the freshly ground masala is something unique for this cuisine.
I used various spices and roasted till it releases nice aroma and the ground it into powder to use in this gravy. It can be prepared in advance and store it in a air tight container. I have used the store bought coconut milk for this gravy. But freshly extracted first coconut milk tastes best in this gravy.
Basic Information:
Preparation Time: 20 minutes
Cooking Time: 30 minutes
Serves: 4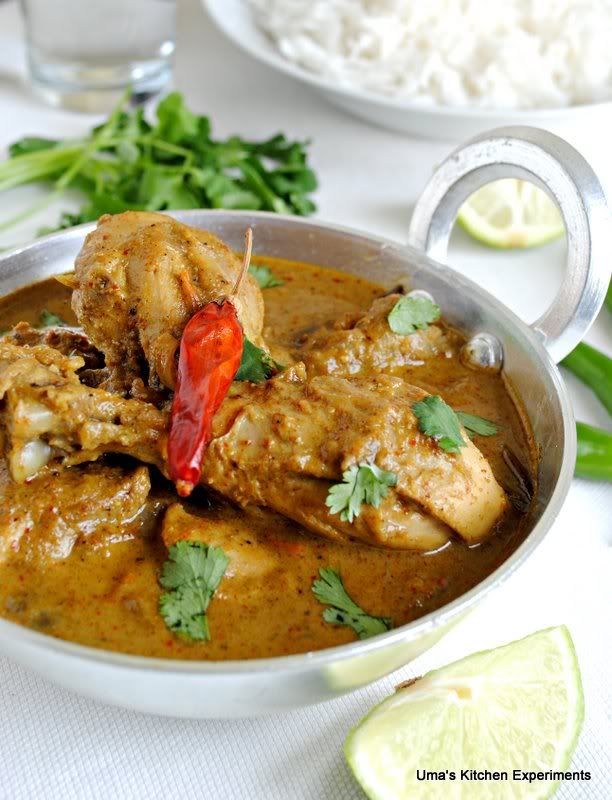 Ingredients:
For Gravy:
Chicken – 1/2-3/4 kg , washed
Shallots/Red onion – 1 cup, sliced
Tomato – 1 cup, sliced
Turmeric powder – 1/4 teaspoon
Curry leaves – 1 sprig
Coconut Milk – 1 cup (I used canned coconut milk)
Salt – to taste
Oil – 2 tablespoona
Coriander leaves – for garnishing
For Masala:
Black Pepper – 1/2 teaspoon
Cumin seeds – 1/2 teaspoon
Fennel seeds – 3/4 teaspoon
Coriander seeds – 1 and 1/2 tablespoons
Dry red chillies – 6 nos
Cardamoms – 2 no
Cinnamon – 1 inch length
Curry leaves – 1 string
For Paste:
Green Chillies – 2 to 3, based on the spice level
Garlic – 2 big cloves
Ginger – 1 inch piece
Poppy seeds – 1 teaspoon (Soak in 1 tablespoon warm water for 10 minutes)
Video:


Method:
1) Dry roast the ingredients given 'For Masala' for 2-3 minutes and grind it to a powder when it comes to room temperature. Keep aside.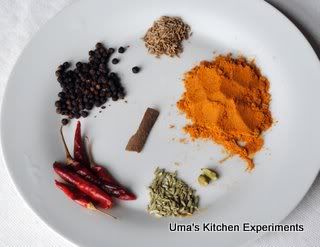 2) Make a paste of all the ingredients given 'For Paste'. Keep aside.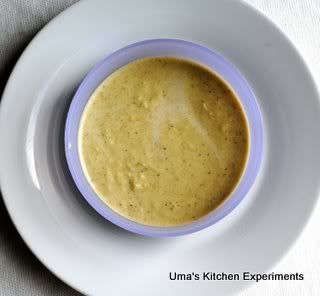 3) Heat Oil in a pressure cooker. Add onions and curry leaves. Saute them till onions get soft.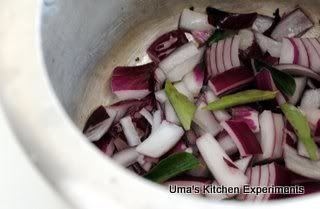 4) Add paste(as said in step 2) and saute for a minutes.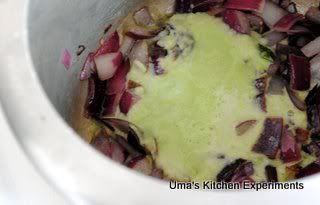 5) Add chicken pieces, cover and cook for 5-7 minutes. Chicken will leave out some water now while cooking. Stir in between for proper cooking.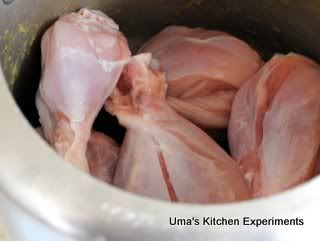 6) Add tomato, turmeric powder and salt. Mix well and reduce the flame to low and cook the chicken for another 5-7 minutes, uncovered.
7) When you see the chicken is 3/4th cooked, add the coconut milk. Mix well.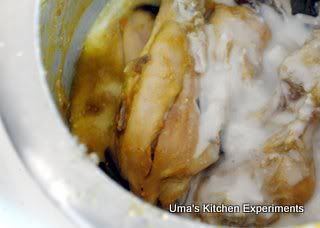 8) Close the pressure cooker with lid and cook for 5 more minutes or cook for a whistle.
9) Now, open the lid and add the masala powder (as said in step 1). In a medium flame cook for some time.
10) Garnish with coriander leaves and serve hot with steamed rice.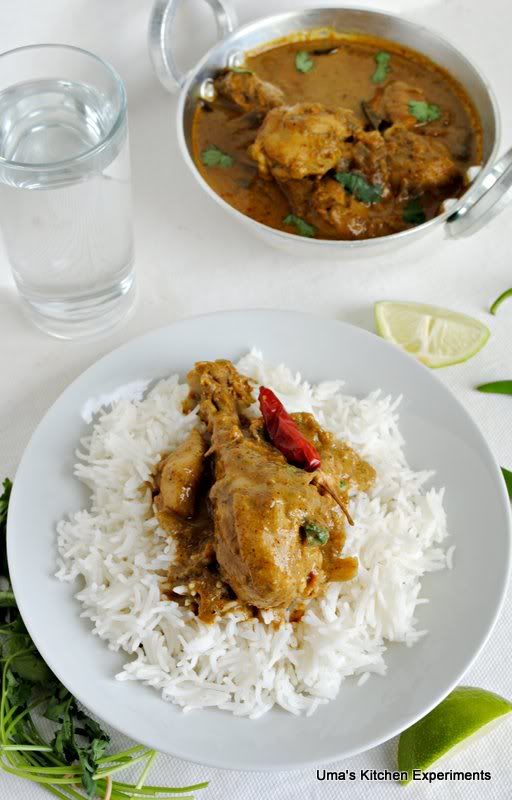 Note:
1) If you are going to cook more than the given quantity here, cook first 1-7 steps in a wide pan and then transfer the content to a pressure cooker to proceed with the remaining step for easy handling.
2) Adjust dry red chilli, green chilli, black pepper quantity according to your taste.
3) I used 5 chicken drumstick pieces to cook this gravy.
4) No need to add water for the gravy. Coconut milk is alone enough.