Finally I did it. As promised, Navara Fish Curry to your feast now. Hope you all adjust with the pictures with poor lighting.
Basic Information:
Preparation Time: 20 minutes
Cooking Time: 20 minutes
Serves: 4-5
Ingredients:
Navara meen – 500 grams, cleaned
Shallots / Small onions / Sambar onions – 10 nos
Garlic – 10 nos, crushed
Curry leaves – 2 strings
Oil – 4 teaspoons
Mustard seeds – 1/2 teaspoon
Tomato – 1 nos, medium, finely chopped
Tamarind – 1 small lemon size, soak in 1/2 cup of warm water.
Red chilli powder – 2 teaspoons or as per taste
Turmeric powder – 1/4 teaspoon
Salt – to taste
To Roast and Grind:
Coriander seeds – 1 tablespoon
Poppy seeds – 1/2 teaspoon
Fenugreek – 2-3 nos
Cumin seeds – 1/2 teaspoon
Black pepper – 2-3 nos
Asafoetida – a pinch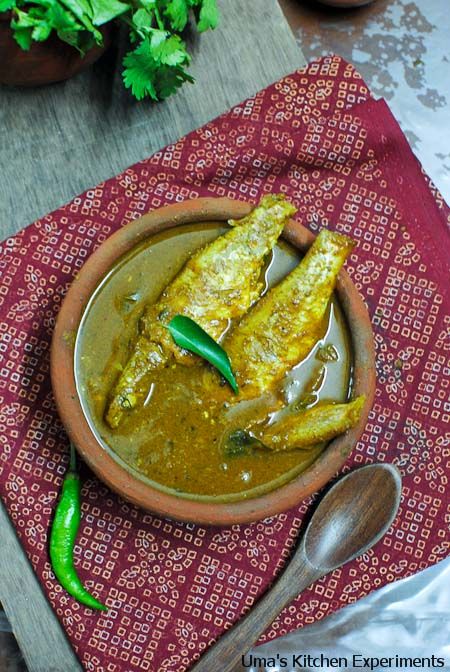 Method:
1) Dry roast the Ingredients given for roasting and grinding. Cool for sometime and make a powder of it.
2) Put the shallots in food processor for half a second and keep aside. Make sure the shallots are not becoming paste. It should be roughly ground.
3) Take a Kadai/Pan and heat oil in it.
4) Add mustard seeds. When the crackle sound of mustard seeds reduces, add the curry leaves and roughly ground onion. Saute for few minutes until the raw smell of onion goes off.
5) Add crushed garlic and fry for a minute.
6) Add tomato and fry till it completely mashes.
7) Add red chilli powder, turmeric powder and salt. Give a quick stir for 2-3 minutes. Make sure you are not burning the masalas.
8) Squeeze and extract the tamarind juice from the water. Add this tamarind juice to the pan. Let it boil until it slightly thickens. Add the roasted masala powder as said in step 1. Taste and adjust the salt or spice.
9) When the gravy is almost done, add the cleaned navara fish to the gravy one by one. Dont' mix the gravy after that.
10) Wait for 3 minutes and turn off the flame.
11) Cover and keep aside for 2 minutes.
12) Serve hot with steamed rice.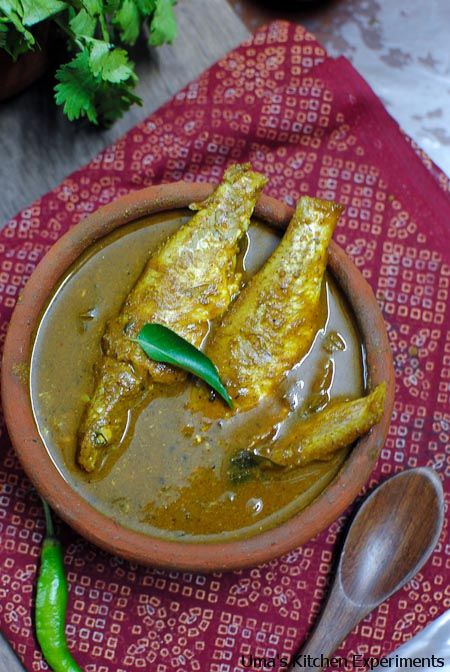 Note:
1) Instead of red chilli powder you can also use sambar masala for this curry.
2) It is enough to cook the fish only for 2 minutes and make sure to keep covering the curry for 2 minutes.
3) This curry will give very very slight sour taste as we are adding masala. If you need taste like our usual fish we make at home, use extra tamarind.