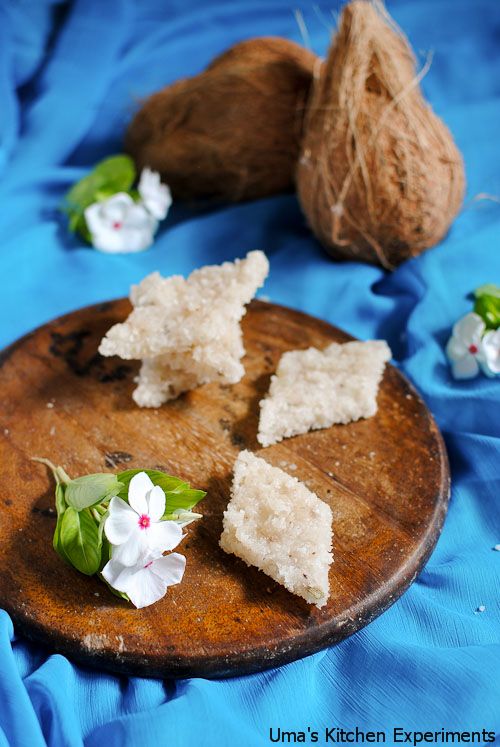 It has been more than a month since I published my last post. Few personal things had kept me busy for a while.
Now I'm back and I bring you a easy, tasty and my favorite childhood recipe "Coconut Burfi". The coconuts used in this recipe are straight from our farm and this time my mom helped me to prepare this dish. Though the preparation looks very easy, it requires lots of attention to get a good texture. So one should take care right from grating the coconut. Grate only the white part of the coconut and not the brown part. The next thing one should take care is taking out the coconut sugar mixture from the flame at correct time when bubbles start oozing out from the sides of the pan. These two precautions will help you to prepare a good coconut burfi.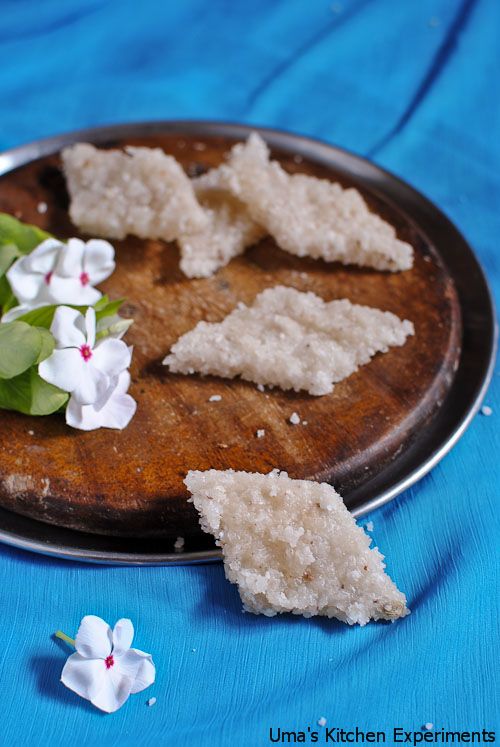 Basic Information:
Preparation Time: 20 minutes
Cookting time: 40 minutes
Idle Time: 8 hours
Makes: 18-20 nos
Ingredients:
Grated Coconut – 3 cups, tightly packed
Granulated Sugar – 3 cups
Water – 1/4 cup (slightly less than 1/4 cup)
Whole Cardamom/Cardamom Powder – 5 nos / 1/2 teaspoon
Ghee – to grease the plate
Method:
1) Take a wide plate and grease it with ghee. Keep it aside.
2) In a heavy bottom pan, mix the sugar and water. Heat it. Continue heating the pan till the sugar melts. Stir continuously for 3-4 minutes.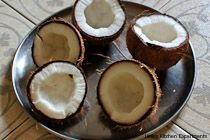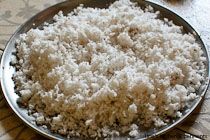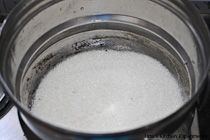 3) Add cardamom powder / crushed cardamom into the melted sugar. Mix well.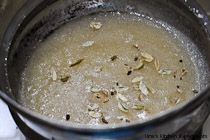 4) Turn the flame to low and add the granted coconut and stir well to incorporate both sugar and coconut.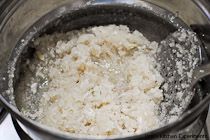 5) Stir continuously till you see the bubbles at the edges/sides of the pan. It will take 10 – 12 minutes.
6) At this stage quickly pour this mixture into a plate and spread it evenly.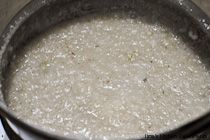 7) Allow it to cool for 30 minutes or1 hour and make your own cuttings. Keep aside for whole night or 8 hours.
8) After 8 hours, store it in air tight container and enjoy.
Note:
1) If you are using freshely grated coconut, you can use less quantity of water than the quantity mentioned here.
2) If you don't like too much of sweet, reduce the sugar quantity to 2 to 2 and 1/2 cups for 3 cups of coconut. This will also give good shaped burfi. But I always use equal quantity of sugar and coconut.
3) Don't hesitate to get someone's help for pouring the coconut sugar mixture to a plate, as this step has to be done very quickly.