I love cooking, and photographing what I have cooked. I have cooked many recipes these days and as a result the number of posts in my draft has increased and reached a threshold. It indicates that I need to post recipes at definite intervals. Don't you think so?
So now I have started to post recipes one-by-one from the Drafts section. I bring to your tables, a filling appetizer (Spring Rolls). I prepare spring rolls often either by baking or shallow frying. Only when I run out of time, I prefer the deep frying option. If you prefer to deep fry them, ensure that the oil is in correct temperature. Otherwise, this dish absorbs more oil and doesn't taste good.
Basic Information:
Preparation Time: 45-50 minutes
Cooking Time: 30 minutes
Makes: 10-12 spring rolls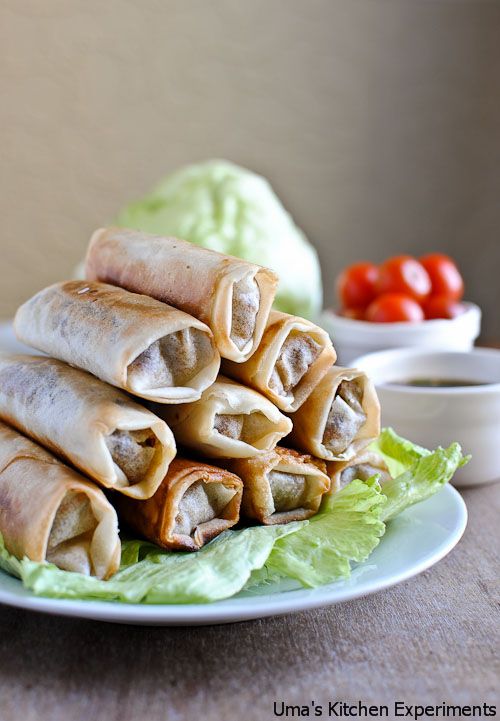 Ingredients:
Onion – 1/4 cup, finely chopped
Ginger – 1 inch length, minced
Garlic – 2 nos, minced
Cabbage – 3/4 cup, finely sliced
Capsicum/Bell peppers – 1/2 cup, finely sliced, any colour
Carrot – 1/2 cup, finely sliced
Mushrooms/Black Mushrooms – 1/2 cup, finely chopped
Soy Sauce – 1 tablespoon
Black pepper powder – 1 teaspoon, adjust as per taste
Salt – to taste
Spring Roll Sheets/Wrappers – 10-12
Oil – 3 tablespoons + for shallow/deep frying
Spring Onion – 5 nos
Water – 1/4 cup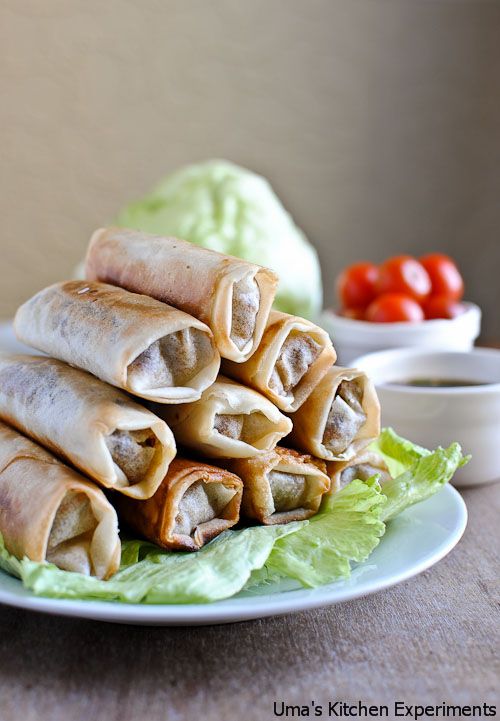 Method:
1) In a pan, heat oil. When the oil is not smoking hot, add chopped onion and root part of the spring onion. Saute it for 3 minutes.
2) Add minced ginger and garlic. Fry for a minute till the aroma spreads in the kitchen.
3) Add the vegetables along with the top part of the spring onion. Toss well. You can also close the vegetables with a lid and cook them if preferred. It will take approx 10-15 minutes.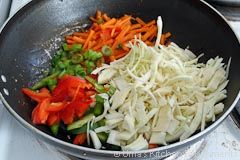 4) When the vegetables are almost cooked, add the chopped mushrooms. Cook again for 5 minutes or until the vegetables reduces to half of its original quantity.
5) Add soya sauce, pepper and salt as per the taste. Mix well.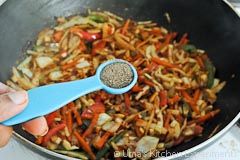 6) Cook for few minutes. Taste and adjust the seasoning as per the taste.
7) Now the vegetable stuffing is ready and allow this mixture to cool to room temperature.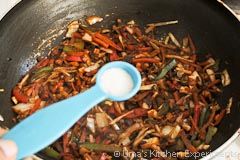 8) Now lay the spring roll sheet in the kitchen surface. Refer the pictures for better understanding.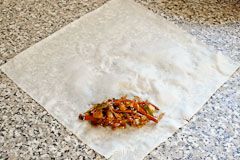 9) Brush the edges with water. Place 2-3 tablespoons of vegetable stuffing in the bottom half of the spring roll wrapper. Spread it like a cylindrical shape and make sure it is not touching the edges of the wrappers.
10) Lift the bottom corner of the wrapper and tuck it in under the vegetable stuffing.
11) Fold over the left and right side of the wrapper towards inside.
12) Continue rolling the wrapper. When you reach the other edge of the wrapper, brush the top corner with water and seal it well.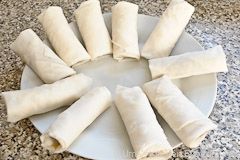 13) Repeat this steps for remaining spring roll sheets or till the vegetable stuffing gets over.
14) Now, Heat oil in the deep pan. When it is not smoking hot, add the spring rolls slowly in the oil and carefully fry them until they turn golden brown. Instead of deep frying you can even shallow fry them with a small quantity of oil. But this method takes slightly longer time than deep frying but its more healthy. You can also bake these rolls. Bake them in 220C/425F for 25-30 minutes in a preheated oven.
15) Remove the rolls and drain them using tissues to absorb any excess oil.
16) Serve the rolls warm with a sauce of your choice.
Note:
1) You can add sprouted moong beans and bamboo shoots for variations.
2) Increase or decrease the soya sauce, pepper and salt quantity as per taste.
3) Add sugar if preferred.
4) Make sure to seal the edges of the sheet properly. Otherwise the stuffing comes out while frying.
5) Shallow fried or Baked spring rolls will not give golden colour as we get while deep frying.