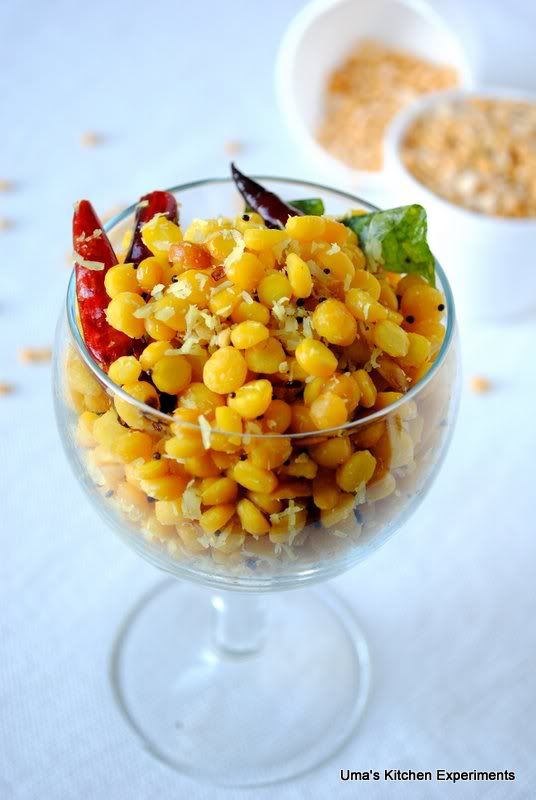 If I post another sundal recipe, it is indirectly means that it is for navratri. Sundals are famous for these days and you can come across different sundal recipes when visiting the golu. There, sundals are often served with tambulam(A gift with sweets, fruits and flowers).
Unlike other sundals, Channa dal sundal is prepared in a jiffy as it requires very less soaking and cooking time. Pressure cooking the channa dal makes the job easier, but as a fresher I would suggest to go for boiling, though it takes little longer time. This way, you can cook it well and at the same time maintain the firmness.
Channa Dals are rich in vitamin B which becomes as energy when you consume them. Also contains folic acid which is mainly helpful for heart health, immune system and prevents birth defects.
Here you go with the sundal recipe.
Basic Information:
Preparation Time: 30 minutes to 1 hour
Cooking Time: 15 minutes
Serves: 2
Ingredients:
Channa Dal / Yellow Split peas – 1/2 cup
Grated Coconut/ Frozen Coconut/ Dessicated Coconut – 2 tablespoons
Dry red chilli – 3 nos
Mustard seeds and Urid Dal – 1/2 teaspoon
Curry leaves – 1 string
Oil – 2 teaspoon
Turmeric powder – a pinch (Optional)
Asafoetida – a pinch
Salt – to taste
Method:
1) Soak channa dal for 30 minutes to 1 hour.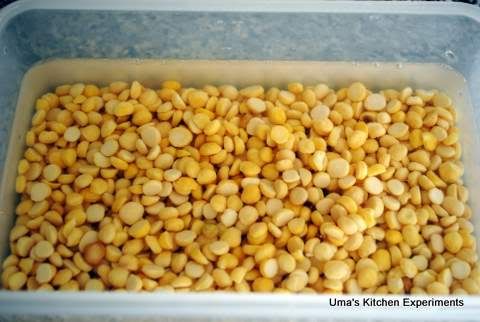 2) In a sauce pan, add channa dal, 1.5 cups of water, salt and turmeric powder and boil it till it gets cooked well. It should be firm and well cooked.
3) Drain the water and keep aside.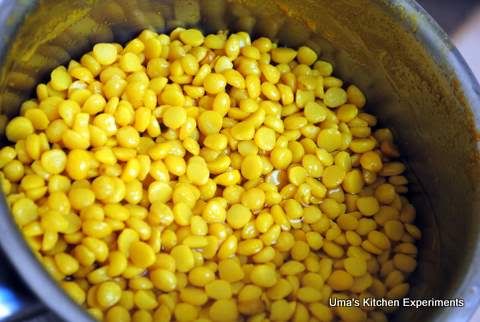 4) In a frying pan, heat 2 teaspoon of oil.
5) When it is hot, add mustard seeds and urid dal, asafoetida, splited dry red chillies and curry leaves.
6) When the urid dal turns brown and the aroma of red chilli and curry leaves spread out in the kitchen, add channa dal.(as said in step 3).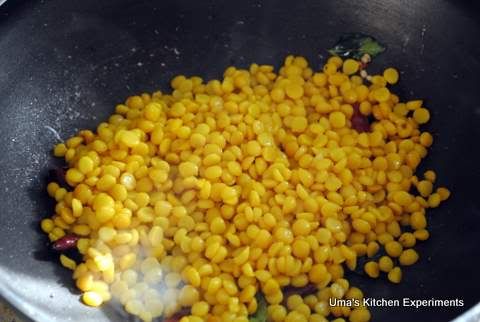 7) Toss it for 2 minutes and add grated coconut.
8) Mix well in low flame and cook for another one minute.
9) Serve warm.
Note:
1) If you are choosing pressure cook option, cook it only for one whistle to avoid messing up with the dal when seasoning.