When I was a child, I hated the taste of greens. So, my mom used to mix it with few other ingredients like potato, dal and paneer and serve us. Days passed and I slowly adapted myself to eat different types of greens. Now, we are preparing greens once in a week owing to its nutritional benefits.
You can prepare this stir fry using any type of greens. For additional taste, use 2-3 tablespoons of cooked toor dal/moong dal with the greens. When I was plucking the leaves from the stem, I found the stems were soft and tender. So I used them to make another stir fry. I 'll be posting that recipe soon. Now off to ponnaganni keerai stir fry.
Basic Information:
Preparation Time: 15 minutes
Cooking Time: 20 minutes
Serves: 4 people
Ingredients:
Ponnaganni Keerai / Dwarf copperleaf – 1 bunch
Sambar onion / Shallots / Small onions – 4 nos, finely chopped
Green chillies / Dry red chilles – 4 to 5 nos or as per taste
Curry leaves – 1 string
Oil – 3 teaspoons
Mustard seeds and Urid dal – 1/2 teaspoon
Fresh coconut – 3 tablespoons, grated
Salt – to taste
Method:
1) Remove the leaves from the stem and keep the leaves aside. Wash the leaves and drain the water completely. Now roughly chop it. Keep it aside.
2) Heat oil in the pan and add mustard seeds and urid dal when the oil is hot.
3) When the crackling sound of mustard seeds reduces, add the curry leaves, sliced green chillies and chopped onion. Fry till the onion becomes soft.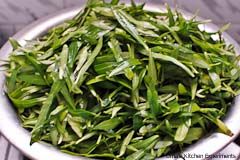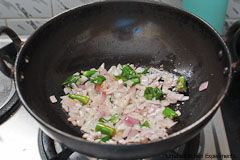 4) Add the keerai to the pan now. Stir well and cover using the lid. Cook it in low flame for 4-5 minutes. You can see the keerai is reduced in its quantity. Add salt now as per the reduced quantity. Stir well.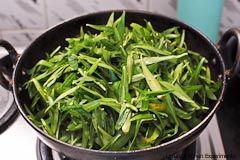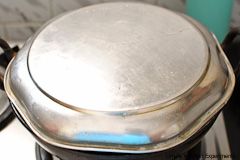 5) Cover again and cook for few more minutes. When the water content from the keerai is drained and it is well cooked, add grated coconut. Switch off the flame.
6) Mix the coconut with keerai using the ladle. The heat in the pan is sufficient for mixing the coconut.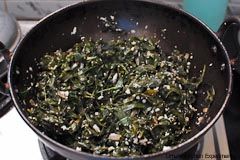 7) Serve with hot steamed rice with your favourite gravy. We enjoyed it with Ennai Kathirikkai kulambu.
Note:
1) Make sure to add the salt only when the keerai reduced half of its quantity. Start from lower quantity of salt. If it is not sufficient, we can add it later. Keep this as a best practise.
2) If you are going to serve keerai for only one time meal, then switch off the flame and add grated coconut. Otherwise, keep the flame ON for few seconds after adding coconut.
3) If you are using green chillies, slice them and use for seasoning. Or, if it is dry red chillies, break it and add to the seasoning.