It is hot and the temperature reads 38C here. I live by gallons of juices and water and only curd rice when it comes to solid food. I always prefer lemon pickle as my first choice of condiment for curd rice. It is hard to imagine curd rice without pickle. right?
But it is the season for fresh mangoes. So, I went for mango pickle which can be prepared very quickly. Now a days, I am preparing this instant mango pickle very often to make a pair with curd rice.If the recipe is very simple and easy to prepare, who will feel lazy to prepare it? I definitely don't…
Basic Information:
Preparation Time: <10 minutes
Cooking Time: <10 minutes
Makes: approx. 2 cups
Ingredients:
Fresh Firm Raw Mango – 1 no, large size, 2 cups when chopped
Mustard Seeds – 1/2 teaspoon
Fenugreek Seeds – 1/4 teaspoon
Dry Red Chilli – 11 to 15, increase/decrease as per your spicy level
Curry Leaves – 1 sprig
Oil – 2 tablespoons
Asafoetida – a big pinch
Salt – to taste
Video Recipe:
Method with step by step pictures:
1) Take a thick bottom Kadai/Pan and dry roast fenugreek seeds, dry red chillies. When you feel the nice aroma of spices and see the spices are changing in colour, turn off the heat and allow it to cool.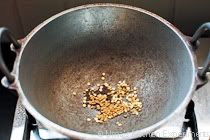 2) Meanwhile, Wash and wipe the raw mango using kitchen towel and chop them into very small cubes.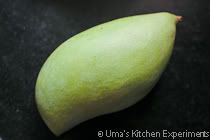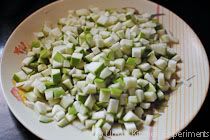 3) By this time, the roasted ingredients must be cooled down. Put them in mixer/coffee grinder/food processor and grind it to a smooth powder as much as possible.
4) Wipe off the same kadai and heat oil in it. When the oil is hot, add the mustard seeds and asafoetida.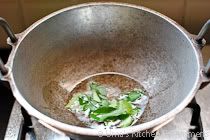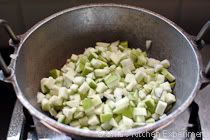 5) When the mustard seeds starts to splutter, add curry leaves and immediately add chopped mango.
6) Add salt as per taste and ground spice powder. Mix well.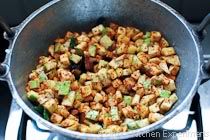 7) Continue mixing till the chopped mango turns slightly soft.
8) Allow it to cool and store in a container for future use. It stay good for a week or two.
Serving Suggestions:
1) Serve it with any rice based recipes as a condiment.Goes well with curd rice,
2)Serve with parathas.
Notes:
1) If red chilli powder, roasted fenugreek powder is readily available, you can directly add them to chopped mango and skip the roasting part here. Make sure not to add more fenugreek powder as it gives bitter taste.
2) I always like the crunch of raw mango and hence I only fry till the raw smell of spice powder goes off.
3) Increase or decrease the oil quantity as per preference.