Six months before, I was watching a cooking show by Anjum Anand telecasted over TV. She was explaining about all the cooking facts, do's and don'ts about Indian cooking which inspired me a lot and made me to look into one of her books "I love curry". I have tried many recipes from that book and today also I am planning to post her Tofu and Pea curry which paired well with hot steamed rice.
Tofu is something which look like a Paneer but it is made by coagulating the soy milk instead of our cow milk. It has low calorie, high protein, iron and has little fat. For more information about tofu, click here.
Basic Information:
Preparation Time: 15 minutes
Cooking Time: 30 minutes
Serves: 4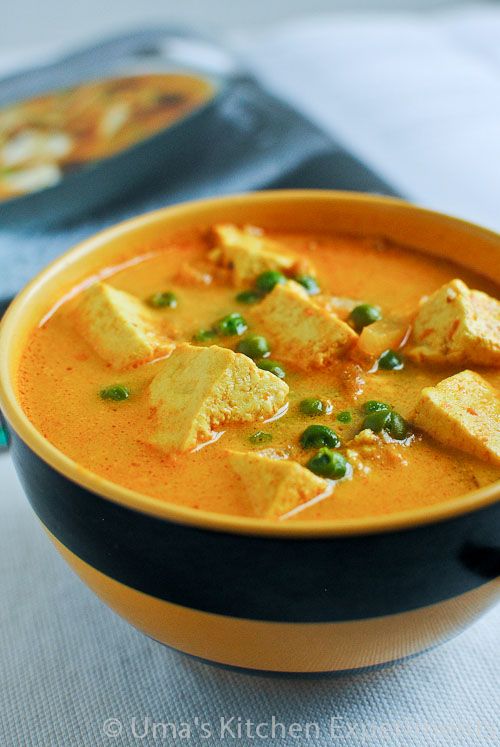 Ingredients:
Peas – 1 cup, fresh or frozen
Firm tofu – 1 cup, cut into cubes
Tomatoes – 2 nos, small size
Onion – 1 no, medium size
Ginger garlic paste – 2 teaspoons
Oil – 1 tablespoon
Cumin seeds – 1/2 teaspoon
Cinnamon stick – 2 cm length
Bay leaf – 1 no
Black pepper – 4 nos
Cloves – 2
Turmeric powder – 1/4 teaspoon
Chilli powder – 1 teaspoon
Coriander powder – 1 tablespoon
Salt – to taste
Whole milk – 1 cup
Water – 1 cup
Coriander leaves – 4 strings, forgarnishing (Optional)
Method:
1) Make a paste of tomato and keep it aside.
2) Heat oil in a kadai/frying pan/sauce pan. When the oil is hot, add cumin seeds, cinnamon, cloves, crushed black pepper and bayleaves.
3) When the spices spreads nice aroma to the kitchen, add onion and cook until soft and brown.
4) Add ginger garlic paste and add saute for few minutes.
5) Add tomato paste (As said in step 1) mix well.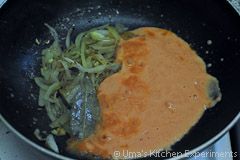 6) After few minutes, add turmeric powder, chilli powder, coriander powder and salt. Reduce the flame and cover the pan. Cook untill the oil seperates from the gravy. Mix inbetween to avoid the gravy sticking with pan.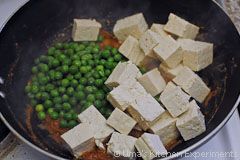 7) Add peas and tofu and gently stir for 1 minute to 2 minutes. Add milk with a cup of water. Bring this mixture to boil.
8) When the gravy starts boiling, simmer the flame and cover the pan untill you get the think creamy gravy consistency.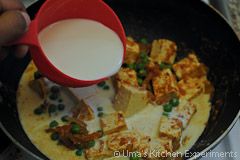 9) Adjust the seasoning and sprinkle coriander leaves before serving.
10) Serve with steamed rice.
Note:
1) Use only fresh and frozen peas for the best result.
2) As the gravy is little watery consistency, It will go good only with rice.
3) If you are not getting tofu at your place of stay, substitute tofu with paneer.