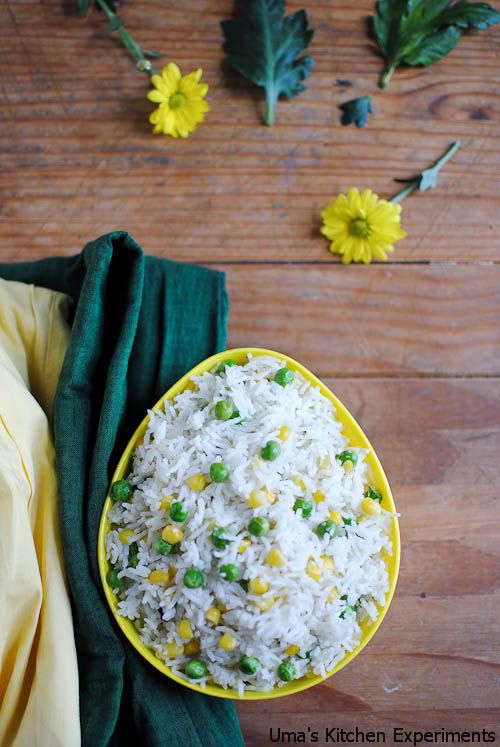 Eight to Ten years ago. I don't remember exactly which year. I first prepared pulao at my aunt's kitchen based on her instructions.
After 2 continuous attempts, I was able to bring up the taste but not the texture of pulao. Those days, I was a beginner and didn't even know to cook rice correctly.
So I skipped the part of cooking rice along with vegetables and I cooked both seperately and mixed them together. Most of the time, my aunty cooked rice and helped me to prepare pulao. Till now I am following this method for making pulao to maintain the pulao texture even though I have gained some experience to perfectly cook rice.
Basic Information:
Preparation Time: 15 minutes
Cooking Time: 20 minutes + 20 minutes to cook rice
Serves: 2-3
Ingredients:
Oil – 3 teaspoons
Cardamom – 2 nos, roughly crushed
Bay leaves – 1 no
Cinnamon stick – 1 inch length
Cloves – 2 nos
Onion – 1/4 cup, finely chopped
Ginger – 1 inch length
Garlic – 3 cloves
Green chilli – 2-3 nos
Corn – 1/4 cup, fresh or frozen
Green peas – 1/4 cup, fresh or frozen
Coconut milk – 1/4 cup – 1/2 cup
Rice – 1 cup
Water – 2 cups
Salt – to taste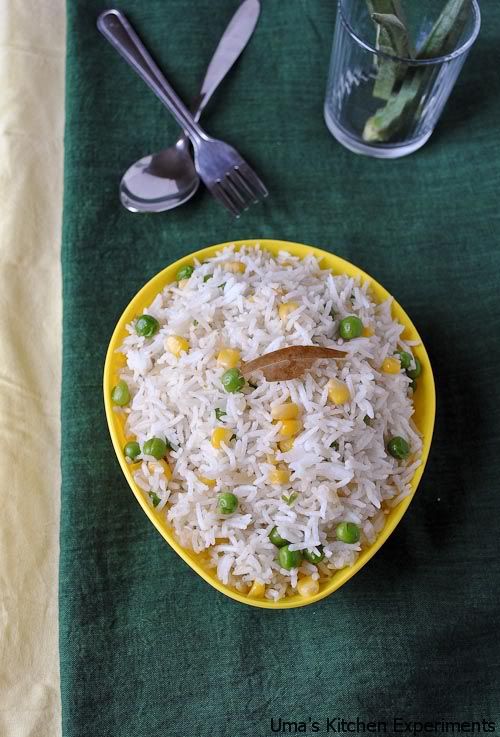 Method:
1) Wash the rice 2 – 3 times and add 2 cups of water. Microwave or cook in pressure cooker or choose your perfect way of cooking rice. Pick any the above to cook the rice. Make sure to cook rice correctly and It shouldn't stick with each other.
2) Spread the cooked rice in a wide plate and allow it to cool.
3) Meanwhile, take a wide non-stick pan and heat 3 teaspoons of oil in it. You can even use more oil if you prefer.
4) When the oil is hot, throw the spices. Make sure to crush the cardamom and cloves to avoid bursting.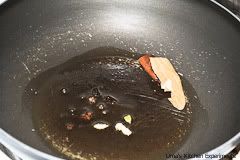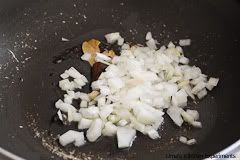 5) When the spices spread nice aroma in the kitchen, add onion and saute.
6) Make sure not to brown the onion and saute without changing the colour. Onion has to be soft and translucent and should not turn brown.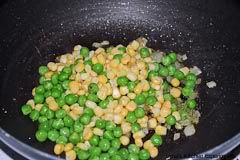 7) Make a paste using ginger, garlic and green chilli. Add this paste to the sauteed onion. Fry for 2 minutes.
8) Add corn and peas to the pan. Stir well.
9) Add coconut milk. Cover and cook till corn and peas cook well. It might take 4-5 minutes.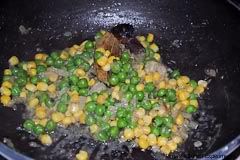 10) Now, open the pan and cook till the coconut milk completely evaporates. Add salt and mix well.
11) Add cooled rice and gently mix well.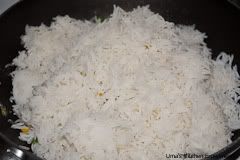 12) Serve with any of your favorite side dish. We had it with cauliflower dry curry.
Note:
1) If you are using basmathi rice, follow the cooking instruction given in the pack and cook the rice as per the instructions.
2) You can also cook rice along with corn and peas. But you will find the above method is easy.
3) Increase or decrease the corn and peas quantity as per personal preference.
4) Try to use fresh/frozen corn and peas for best results of this pulao.
5) Kindly ignore the noise in few pictures. I have noticed it only during publishing the pictures.