I first came to know about guacamole only during my last abroad trip. When I tasted it for the first time, I didn't like the taste. Later, I came to know that we can make this at home easily with available ingredients. So, just added other ingredients with avocado and adjusted the taste as per my personal preference. It has become an addictive recipe at home now. I just added more chillies and lime juice to make it as my family favorite and my choice is to eat with spicy corn tortilla chips.
The making of this recipe is given below.
Basic Information:
Preparation Time: 10 minutes
Serves: 2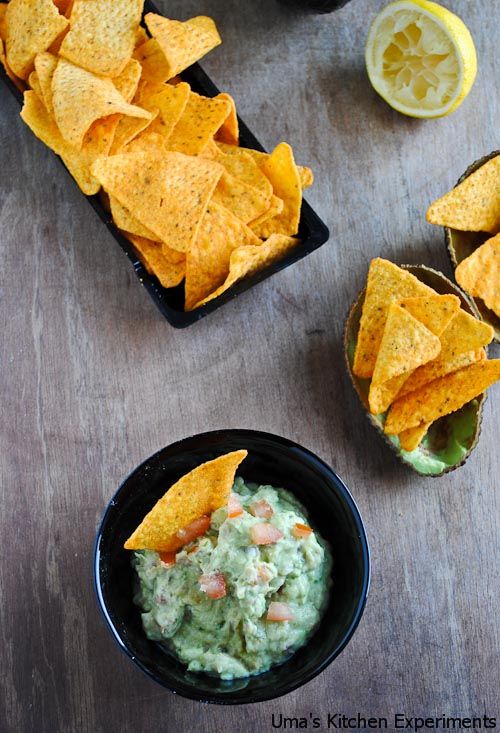 Ingredients:
Avocados – 1 no, ripen (yielded 1 cup)
Red Onion – 1/2 cup, finely chopped
Tomato – 1/3 cup, finely chopped
Green chillies – 2 , finely chopped
Coriander leaves – 1 tablespoon, finely chopped
Salt – to taste
Lemon juice – to taste
Method:
1) Cut the avocado in a vertical position. This helps the seeds to come out quickly. Scoop the creamy inner part using a spoon from the thick skin.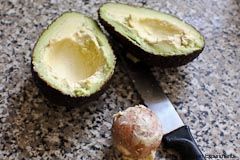 2) Mash it well till the avocado becomes smooth and creamy.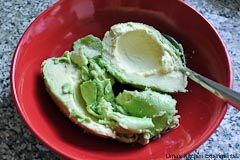 3) Add mashed avocado, red onion, tomato, green chillies, coriander leaves, salt and lime juice in a bowl/mixer/food processor. Mix it well or Grind it for just less than half a second.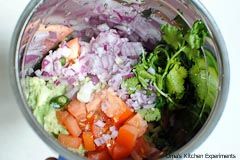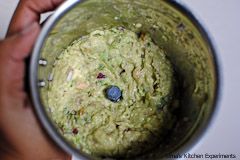 4) Serve immediately with corn/tortilla chips.
Notes:
1) All the ingredients can be increased or decreased as per individuals taste.
2) For quick avocado, simply add salt, red chilli powder and lime juice and enjoy with corn chips.
3) Choose firm and ripen avocado for best guacamole.