Baingan Bharta/ Baigan Bharta/ Baingan ka Bharta is one of the first North Indian recipes I had learnt. I could still remember those days when I first learnt to make this dish with the help of a cookbook bought from Landmark, Chennai. It was nearly seven years ago. Even after these many years, I am not bored of this dish and believe it or not, it has become a part and parcel of my cooking. I use to cook it at least once in a week. I prefer to eat this dish with rice rather than having it with chapathi. It also goes well with steamed rice. Try at your home and I'm sure you would go crazy.
The Hindi word Baingan Bharta means, "A dish prepared using mashed/pureed eggplant and spices"
Baingan/Baigan – Eggplant
Bharta – roughly mashed/pureed vegetable
In India, the eggplant is mostly roasted in tandoor oven. This type of roasting can now be done in several ways as it suits our modern lifestyle. Some households use gas stove for roasting while some use conventional oven or microwave. A point to remember is, "roasting the eggplant under the direct flame will give exactly the same result as roasted in tandoor". I don't have a gas stove hence I have used my microwave to mash the eggplant. The smoky flavor of eggplant would be absent in this method, but still the taste is good. Some folks would prepare this dish using raw ingredients just like a salad(but baingan has to be roasted), however I prefer the baingan with cooked ingredients as said below.
Basic Information:
Preparation time: 15 minutes
Cooking time: 30 minutes
Serves: 2-3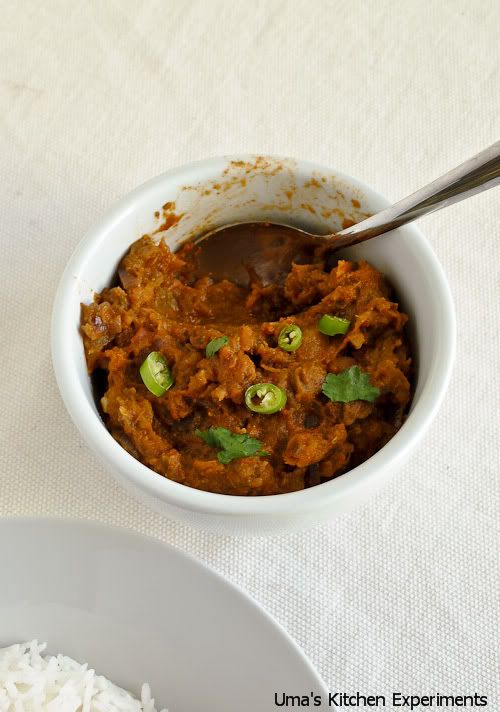 Ingredients:
Eggplant/Aubergine/Brinjal – 1 no, large size
Oil – 2 tablespoons
Cumin seeds – 1/2 teaspoon
Ginger garlic paste – 1 teaspoon
Green chillies – 2 nos, finely chopped
Onion – 1 no, large size, finely chopped
Tomato – 2 nos, medium size, finely chopped
Red chilli powder – 1 teaspoon
Coriander powder – 1 tablespoon
Garam masala – 1/8 teaspoon
Turmeric powder – a pinch
Salt – to taste
Coriander leaves – for garnishing
Water – 1/4 cup (Optional)
Method:
1) Wash and wipe the eggplant. Slightly coat it with oil.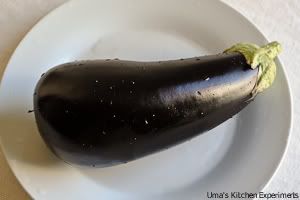 2) Keep inside the microwave for 8 minutes.(If you have Gas stove, roast it directly over flame for few minutes turning all the sides). Meanwhile, chop onion and tomato.
3) After 8 minutes, Allow the eggplant to cool and peel the skin of it and roughly mash it well. Keep aside.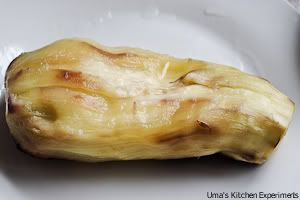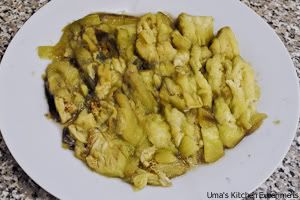 4) Heat oil in pan and add cumin seeds once it is hot.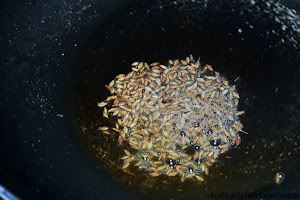 5) When cumin seeds splutter, add ginger garlic paste and green chillies. Saute it for few minutes. Make sure not to burn the paste.
6) Add onion and saute till it becomes soft and translucent.
7) Add tomato and saute till it completely mashes.
8) Add red chilli powder, coriander powder, garam masala, salt and turmeric powder. Continue sauteing till the raw smell of masala goes off.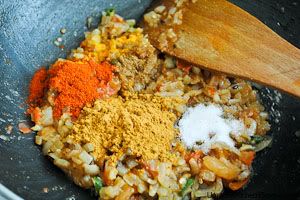 9) Add mashed eggplant (as said in step 3) and give a stir.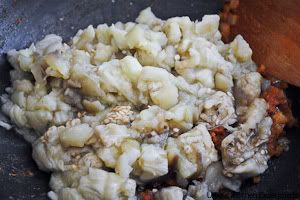 10) Add water if using. Mix well. Cover and cook for 10-15 minutes. Give a stir in between to avoid burning.
11) Now, open the lid and cook for 5 minutes or till the oil separated from the sides of the pan.
12) Garnish with coriander leaves and serve with roti/chapthi or rice.
Note:
1) I like the gravy with less oil and hence added water. If you prefer, you can add extra oil and skip the step of adding water.
Linking this recipe to Dish it Out- Brinjal N Garlic event guest hosted by Sangee.