I am sure every home has their own version of sambar masala powder. Here, I share my version which we usually prepare at our home every time.
Nothing can beat my grandma's sambar and her sambar masala. Every Friday she used to prepare some type of sambar(If no vegetable is available, she prepares onion sambar). If she prepares it, I simply drink it instead of eating it with steamed rice. 🙂
This sambar masala can also be used for other curries where we need to use red chilli powder and coriander powder. I accept there is a slight change in taste but for some recipes this masala adds very good taste.
Basic Information:
Preparation Time: 1 hour
Idle Time: 5 hours
Makes: 1kg of sambar powder (approximately)
Ingredients:
Dry red chillies – 1/2 kg
Dhania/ Coriander seeds – 1/2 kg
Urid dal – 1/4 cup
Channa Dal – 1/4 cup
Toor Dal – 1/4 cup
Rice grains – 1/4 cup
Black pepper corns – 50 grams
Cumin seeds – 50 grams
Mustard seeds – 30 grams
Fenugreek seeds – 10-20 grams
Katti perungayam / Asafoetida – 20 gram, crushed (see notes)
Fresh Curry leaves – a big bunch, yields 1 cup approximately, optimum packing
Oil – 1 teaspoon
Method:
1) Sun dry all the ingredients for 5 hours separately.
2) On the same day, collect all of them and dry roast them in heavy bottom pan one by one separately until the ingredients gives a wonderful aroma. Rice grains should be opaque. I forgot to take picture of dry roasting coriander seeds and dry red chillies. Except those two pictures, all the other pictures are given here.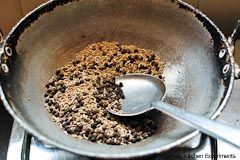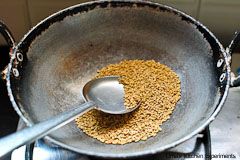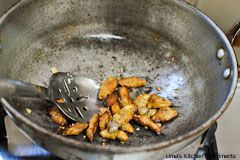 3) Dry roast curry leaves until they turn crisp.
4) Heat a teaspoon of oil and fry crushed, sun dried asafoetida for few minutes in another pan.
5) Allow the roasted ingredients to cool completely to room temperature.
6) Grind it using mixer/food processor to a fine powder. As I prepare it large quantity, I often grind them at Flour mills / Grinding mills.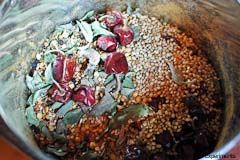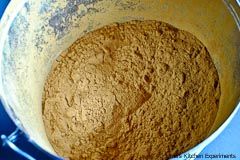 7) Allow the ground powder to cool to room temperature by spreading it in a wide plate.
8) Store it in a clean dry air tight container.
Note:
1) If you are using katti perungayam or kootu perungayam, dry it well in sunlight and use. If you are not getting katti perungayam at your place, use a teaspoon of asafoetida powder. You can very well adjust the quantity as per preference.
2) If you are making this powder in large quantity, then store it in a big container. For daily use, store smaller quantity in small jar and refill the small jar weekly once using a dry spoon.This helps you to prevent bugs.
3) If you are not able to sun dry all the ingredients, directly you can roast them and make a sambar powder.
4) You can also add 25 grams of roasted poopyseeds/ kasa kasa for unique taste.