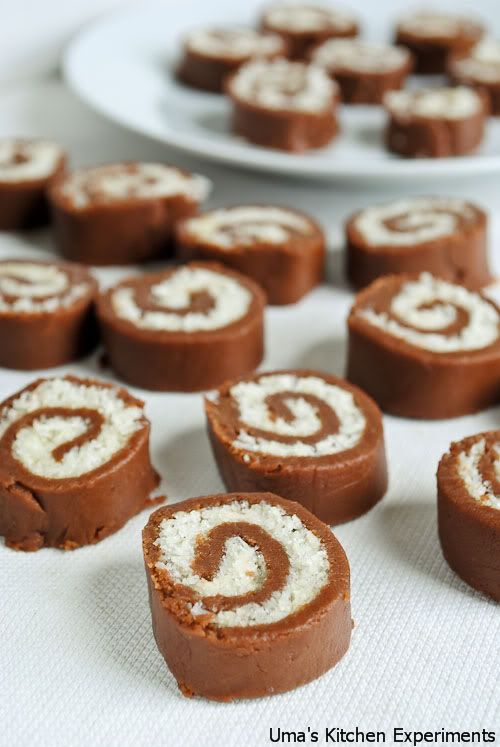 Easy and very easy recipes are my choice and if it comes with choco flavor, I am the first person stands in the queue to prepare and enjoy it. I bookmarked such an easy choco recipe from Priya of Bon-Appetit a month ago. When I prepared at home, it disappeared immediately just after my preparation. Try it, you and your kids like them much and you can see them disappeared in no minute.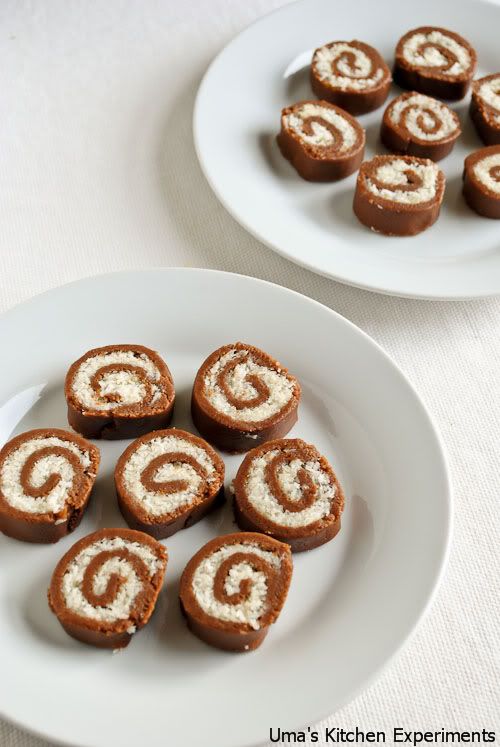 Basic Information:
Preparation Time: 20 minutes
Idle Time: 30-60 minutes
Makes: 20-25 pinwheels
Ingredients:
For outer layer:
Marie/Mcvities/Tea Biscuits – 20 nos (half packet approx)
Cocoa Powder – 1 and 1/2 teaspoon
Sugar – 1 tablespoon
Milk – As required to make dough
For inner layer:
Dessicated coconut/Dry coconut – 1/2 cup
Sugar – 1/4 cup (+/- according to your taste)
Butter – 2 tablespoons
Cardamom powder – 1/8 teaspoon
Method:
1) Using the mixer/coffee grinder/food processor, powder the biscuits first and towards the end, add cocoa powder and sugar. Make a smooth powder. Sift it so that it makes the rolling process easy.
2) Add little quantity of milk at a time and make soft dough. Knead it for 3 minutes and keep aside.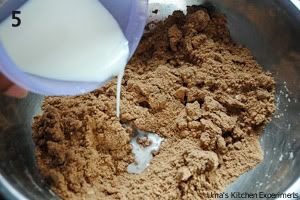 3) Combine all the ingredients given for the inner layer and mix well. Keep it aside.
4) Now divide the dough(as said in step 2) into two and roll one divided dough into a round shape like chapathi using the rolling pin.
5) Spread the dry coconut mix evenly (as said in step 3) over the rolled dough. Leave some space at the ends.
6) Roll tightly like a cylindrical shape and seal the cracks if any.
7) Cover it using a cling wrap/aluminium foil and repeat the above steps with remaining dough. Keep both the rolls in freezer for 30-60 minutes to set.
8) After 30-60 minutes, cut them into small pinwheels with the width of half inch.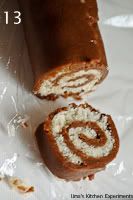 9) Serve chill.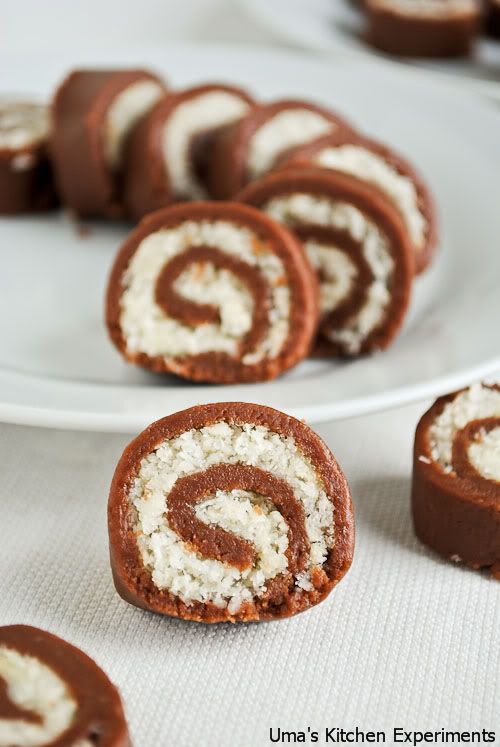 Note:
1) If you do not have dessicated coconut, cream the sugar and butter and use as inside layer. In fact, this gives very perfect shape than pinwheels using dessicated coconut.
2) Mix some coffee powder to the milk to get some coffee flavor.
3) You can store it for 2 days but I bet it can not stay at your home for 2 days.