Kaara Seedai or Uppu Seedai? We usually prepare seedai with red chilli paste and call it as kaara seedai. There are few methods to prepare this seedai. When I checked my pantry, I find that I ran out of raw rice(pacharisi) and didn't have time to buy it for preparing the flour.(It was almost night time). So, after discussing with my mother, I picked this method. Though it looks easy, it requires your extra care in each step. I have mentioned almost all of them per my knowledge in each step.
Basic Information:
Preparation Time: 1 hour
Cooking Time: 45 minutes
Makes: 4-5 cups of seedais
Ingredients:
Idly Rice – 3 cups
Roasted channa dal / Pottu Kadalai – 1 cup
Cumin seeds – 2 teaspoons
Salt – to taste
Garlic – 2 or 3 nos
Dry red chilli – 10 nos
Water – as required
Oil – as required to fry
Method:
1) Soak Idly rice overnight or 4 hours. Grind it to a smooth paste(without any grains/particles) with very limited water. The final batter should not be runny and it should be in thick consistency. If you have added more water, then put the batter in the white cotton cloth to absorb the excess water or Pour the batter into a kadai/pan with a tablespoon of oil and stir it continuously till you get the thick soft dough. Transfer the dough into a mixing bowl and keep it aside. Mine was little watery and I picked up the second method to drain the excess water.
2) Make a powder of roasted channa dal and sieve it. Make a powder of left out coarse grains again and sieve it to get smooth powder without any grains/particles. Keep it aside.
3) In a food processor/coffee grinder/ Mixer, take dry red chillies, garlic, 1 teaspoons cumin seeds. With the help of little water, make smooth paste of it. Keep it aside.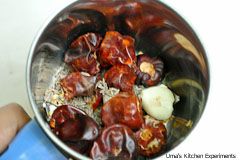 4) Now, add the powdered pottu kadai, ground chilli paste, salt, remaining cumin seeds to the dough in the mixing bowl. Add a tablespoon of luke warm oil to this and make soft dough.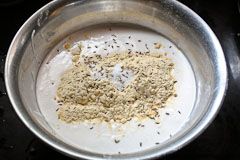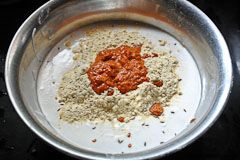 5) Mix well and divide the dough into equal parts.
6) Take a small pinch from the dough and start rolling as tiny balls as shown in the picture. Make sure the tiny balls are same in shapes for even frying. Make sure you are not giving too much pressure while rolling it. Once the balls are rolled, divide them into batches and set aside for few minutes.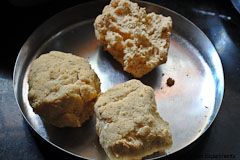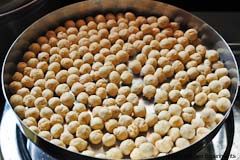 7) Heat the oil in pan and when the oil is hot and not smoking, Add the rolled balls quickly. Make sure the seedais/ balls are just above the oil level to avoid bursting. Refer the picture.
8) After some time, the seedais reduce in its size and you can see all the seedais went inside the oil level. Now, Stir using a ladle for uniform frying.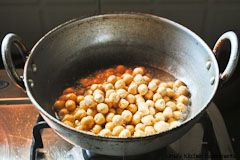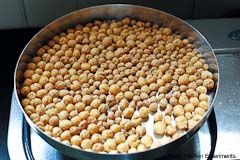 9) When the colour of the seedai turns golden brown/honey colour, remove from the oil. Transfer the fried seedai to the plate with paper tissue to absorb the excess oil.
10) Cool to room temperature and store it in a container.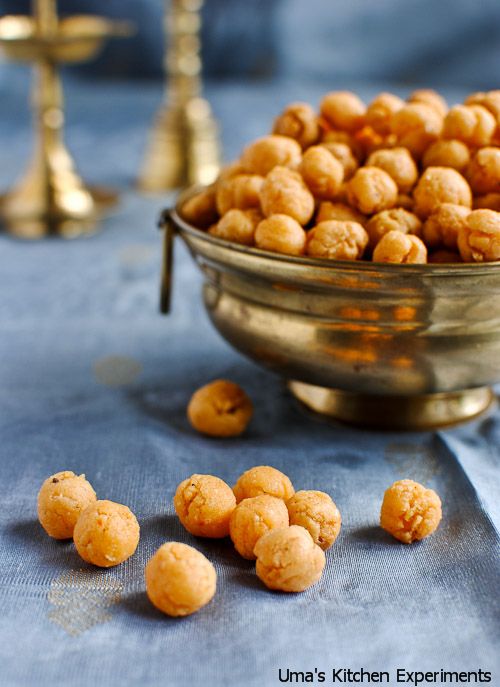 Note:
1) My Mom used to make very very tiny balls with less than 1CM Diameter for kaara seedai. If you are not having time and patience for making such small one, try to make half inch length seedai.
2) Increase/decrease the dry red chilli quantity as per the spicy level of it.
3) You have to refill the oil to certain level if the oil level is reduced while frying. Otherwise it leads to uneven frying.
To Avoid Bursting:
1) When preparing the batter and making a powder of channa dal, make sure there are no grains,stones and other particles.
2) When rolling the seedais, make them without giving too much pressure. if you are not able to form a shape, it is not a problem.
3) Once the seedais are prepared from dough, keep aside for few minutes to dry it out before frying.
4) Divide the seedais into batches and add the seedais just above the oil level. I use little oil and fry in small batches.