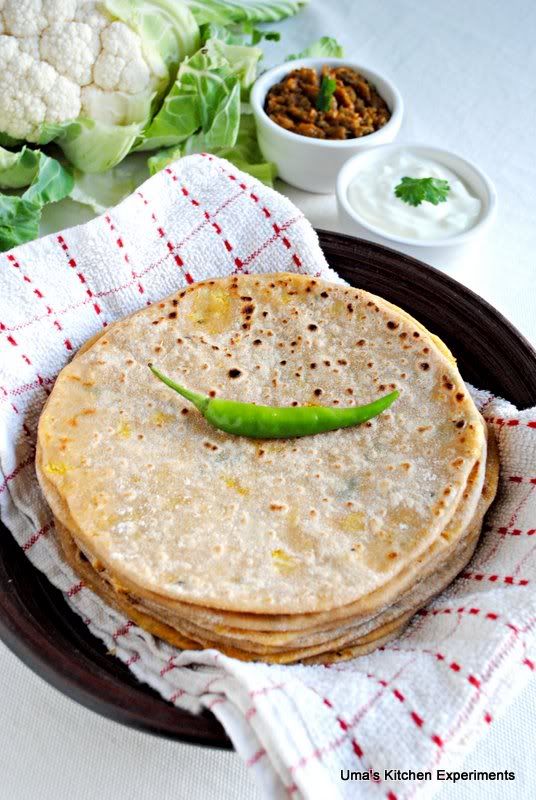 Gobi paratha is the one which I prepare very often next to aloo paratha because gobi is the husband's favorite. Whenever he shops for grocery, he buys gobi by default. Now you may wonder then why I didn't post it in my blog yet. The reason is, I prepare it most of the time for dinner. This time, I prepared it in advance to take a picture of it, but oh….It is only 5 in the evening and it is dark. 🙁
But somehow I managed to take picture of it and posted it finally. Enjoy the paratha recipe now.
Basic Information:
Preparation Time: 45 minutes
Cooking Time: 15-20 minutes
Makes: 8-9 parathas
Ingredients:
For Dough:
Wheat flour / Atta – 2 cups
Wheat flour for dusting – 2 tablespoons
Salt – to taste
Water – 3/4 – 1 cup
Oil – 1 teaspoon
Butter/ oil – 2 tablespoon or more, for pan frying
For Stuffing:
Gobi – 1 medium size flower (5 cups of florets approx.)
Cumin seeds – 1/2 teaspoon
Turmeric powder – 1/4 teaspoon
Red Chilli powder – 1 teaspoon
Garam masala – a pinch
Coriander leaves – 7 strings, finely chopped
Oil – 2 teaspoons
Salt – to taste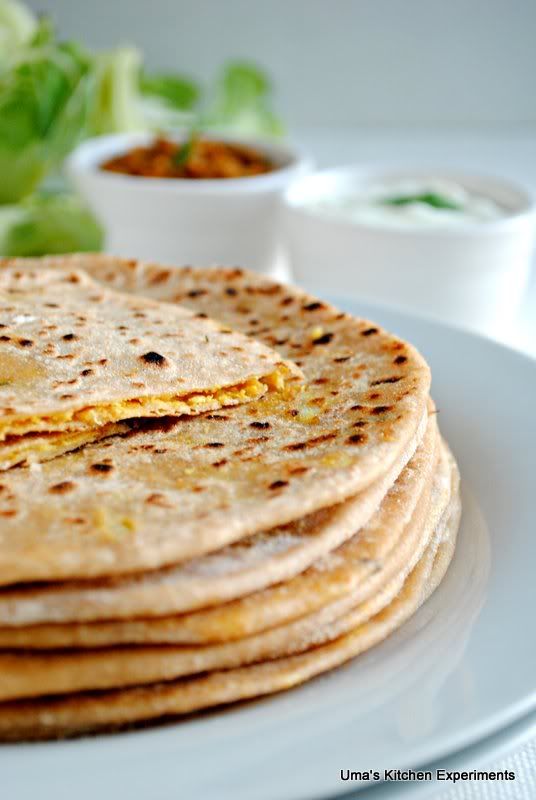 Method:
For Dough:
1) In a mixing bowl, add wheat flour and salt. Make a dough by adding water little at a time.
2) When the flour is not sticking to your hand, add oil.
3) Knead it for 5 to 10 minutes.
4) The final dough should be very firm and soft.
5) Cover using wet towel and keep aside.
For Stuffing:
1) Meanwhile, cut the cauliflower into florets and quickly wash them in hot water. Pat dry them well.
2) Grate them using a grater to a fine particles. You can also use food processor to do it. if you are using a food processor, make sure florets are completely dry before put them in it.
3) Add salt. Mix well, cover and keep aside.
4) Heat oil in wide pan and add cumin seeds. When the cumin seeds crackle, reduce the flame to very low.
5) Take generous quantity of grated cauliflower and squeeze in between your palms to extract the water in it and add to the pan. Repeat this step till the cauliflower gets over.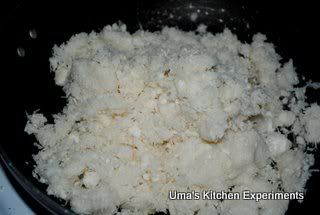 6) Increase the flame to medium and add red chilli powder, turmeric powder, garam masala. Mix well. Taste it and adjust the salt.
7) Add coriander leaves when the raw smell of cauliflower goes well. Mix well.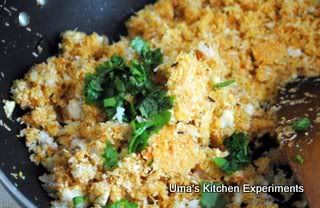 8) When you feel the cauliflower is dry(means without water) and able to make a ball of it, remove from flame and allow it to cool.

For Making Paratha:
1) Divide the dough into equal size balls.
2) According to the dough count, divide the stuffing and make a ball of it.
3) Take one dough ball and dust it using flour. Roll it to a small round size(Approx 12-15 cm of diameter) and in center keep one stuffing ball.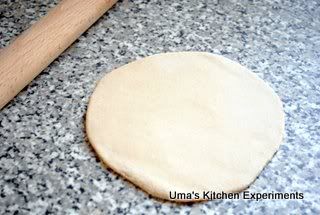 4) gather the corners of the dough and cover the stuffing ball.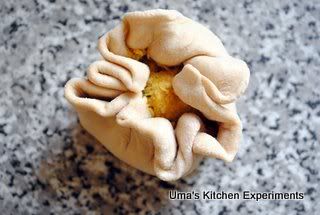 5) Gently press the stuffed ball using your palm/finger as in picture.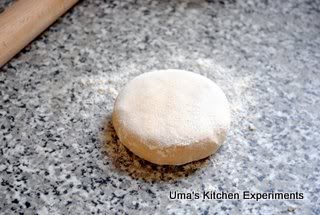 6) Using a rolling pin, roll it to a round shape as in picture and repeat the steps for remaining dough and stuffing balls.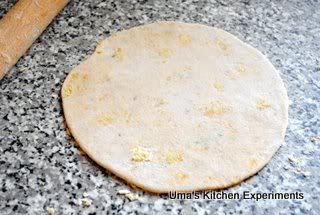 7) Heat skillet/griddle and coat with oil/butter.
8) Put paratha and cook it. When the bottom side is cooked turn to other side to cook. Add butter if required.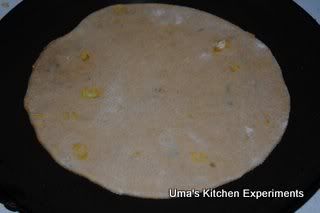 9) Repeat the procedure with other Parathas.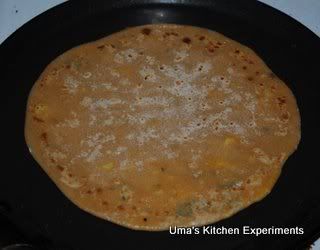 10) Serve hot with curd/yogurt and pickle.
Note:
1) Washing the cauliflower in hot water is my personal preference and hence doing it.
2) You have to squeeze out the water very quickly form cauliflower before the cumin seeds gets burnt. If you are not able to do so, Do the squeezing job in advance.i.e., before heat up the pan for cooking.